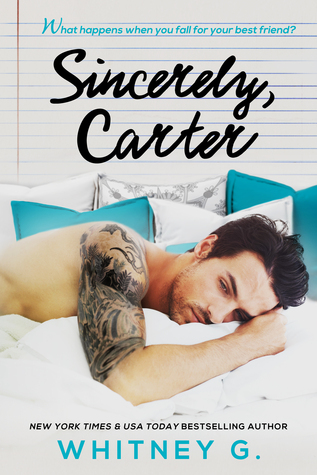 Title: Sincerely, Carter
Author: Whitney Gracia Williams
Genre: NA Contemporary Romance
Type: Standalone
POV: First Person – Dual
Rating:

Carter James was every girl's wet dream. The former star athlete and future lawyer had no problem hooking up, but at the end of the day, his priority always came back to his strictly platonic best friends.
Arizona Turner has been friends with him since they were in fourth grade. They shared everything with each other, until one day when their innocent friendship veered into different direction, putting their long held friendship on the line.
I haven't read a lot of friends to lover stories and most of them were the angsty kind. This one was light, fun and adorable – yes, adorable and I didn't even cringed haha! :p
Carter was fun and confident, but not at all cocky. He used his popularity and did his things with the ladies, but I love how loyal he was to his (just) best friend Arizona and how she was always his top priority.
You're more than 'just' my best friend, and I never want to be 'just friends' again.
I really love how easy Arizona and Carter's friendship was. I love seeing how she subtly changed as their relationship evolved and I love how open she was with her feelings.
I loved her enough to want what was best, and I didn't want her to do that again…
They both had good chemistry together and I love how they behaved among their family and friends, before and after. I like the part when their relationship in conflict and how they coped with it. It added a different dimension to the story.
Sincerely, Carter was a fast paced, feel good read that would make you smile and wish you had a hot (not just) best friend in your life.
This review is also available on Goodreads.
★ ★ ★ Copy won during #ShhIndieSTARchat September ★ ★ ★

Chat Thread
DICKtation & ReCap