Title: Named and Shamed
Author: C.P. Mandara
Genre: Erotica
Type: Book 4 of 6 from Pony Tales series
POV: Third Person
Gritting her teeth Jenny grimaced and gave him what he wanted; the lewd sight of her backside jiggling this way and that as he continued to spank it. His hand now felt like sandpaper on the sensitised flesh. How much longer would she have to endure this? The clamps continued to bite into her tender nipples, and as she swayed to and fro she could feel them moving with her, the ache increasing with each passing second…
If Jenny thought life was hard under the expert tutelage of Mark, being faced with a stable full of sex-starved pony girls poses several more challenges. For instance, how do you bring eleven young women to orgasm in a timely fashion? But to her surprise, tackling the problem with experimentation and enthusiasm, she finds herself enjoying the experience.
When training begins it is anything but enjoyable, however. Harnessed in pony girl tack, her body is encircled with leather, rubber and steel. It nips, chafes and rubs cruelly, especially when she's faced with a morning of naughty games in the exercise yard.
In Book Four of Pony Tales Jenny earns herself several punishments, and is subjected to some very thorough sex indoctrination she has to submit to the whims of her groom, trainers and even the stable-hands. Will rescue arrive or will she have to beg to be released, with nothing more than her body as currency?
Copy provided by the author in exchange for an honest review.
After her harrowing (and arousing) first night in the stables, Jenny Redcliff's second day wasn't any better. The day of the auction has come and she was being prepared to be presented to the bidders complete with a new name chosen for her. As the day went by, Jenny's hope for rescue started to slowly dim and her future hung in a balance.
This book had something different from the previous books. It is longer with two parallel story until about 50% when it merged together.
One story focused on Jenny's day of being groomed/trained/punished as preparation of the auction selling an important part of her "virtue". We're introduced to Daniel, her groom where he cleaned and trained her.
 Hetty had already begun to lubricate the slim butt-plug tail which came complete with sixteen inches of glossy black hair. Half of Jenny's tail had been made from her own hair, shorn the day previously, and the rest was real horsehair which had been expertly dyed to match.
I'm happy that the lovable Hetty and Anges from Book 1 is back. They helped with fitting her full pony girl tack. My favorite is of course the horse hair butt plug haha!
The other story focused on Mark Matthews' life outside the stable. We learned more about his background – though not in details. We still have no idea what exactly he did for a living other than he rose from the bottom.
'Hold them gently, Marianna. I don't want to have to eat mush.'
We're also introduced to another new character, Marianna Morreau who was one of his plethoras of subs. I love the fruit scene between them. Quite disgusting but pretty hot also haha!
Pinching the nub between thumb and forefinger he pulled gently. When the point had hardened he began to wrap the elastic around it, over and over. He repeated the action on the other side.
There were some interesting sex toys included in this one, but my favorite is actually the low tech nipple clap using the humble rubber band. This might be a little TMI but I tried it, it hurt like hell, but it definitely did its job hahaha!
Named And Shamed ended at a pivotal point of Jenny's life at Albrecht Stables. I actually fear for what's going to happen to her next and it doesn't look like it's going to be all fine and dandy.
Note:
The f/f initiation scene was very entertaining 😀
Final Verdict:
4 Golden Cocks
This review is also available on Goodreads.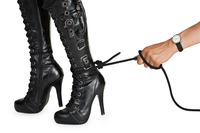 Website  |  Goodreads  |  Facebook |  Twitter
Christina Mandara was born in the UK, but has spent most of her life travelling the world. She speaks three languages and has been chiefly employed in the fields of finance and travel. Her favourite city is Sydney and her favourite holiday destination is the south of France.
She loves keeping fit and enjoys running, cycling and water sports. No, not those kinds of water sports; think surfing or sailing. That doesn't mean that she doesn't enjoy BDSM in all of its glorious forms, be that pony girls, bondage, edge play, orgasm denial or a damn good spanking. Her favourite item in the toy closet (a box simply isn't big enough) is her riding crop.
In her spare time she's usually cuddled up with a good book, exploring the countryside or baking in the kitchen. In fact, she loves her kitchen so much she's one of few woman who wouldn't mind being tied to it! Her first and foremost love is writing, however, and more often than not you'll find her on a laptop spinning tales of romance, erotica or dark, paranormal fantasies.
Those in the BDSM world might wonder whether Ms Mandara is a top or a bottom. Is she currently training a herd of pony boys or is she stabled up, in full leather tack, with the pony girls? It's a good question. Answers on a postcard please or try and figure it out yourself by visiting Ms Mandara's blog:www.christinamandara.wordpress.com