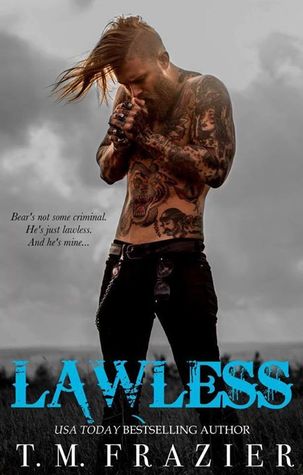 Title: Lawless
Author: T. M. Frazier
Genre: Contemporary Romance
Type: Book 3 of 4 from King series
POV: First Person – Dual
Publication Date: December 8, 2015
Thia is prim and proper.
Bear is leather and lawless.
It will never work between them.
It's a lie they almost believe…

ARC provided by the author in exchange for an honest review
After splitting from Beach Bastards MC, Bear became a lost soul, drowning his reality in alcohol and drug. Knowing his numbers could be up at any moment, he lived his life without a purpose until someone from the past changed his direction.
Thia Andrews was just a kid when a promised was made to her. Years later when trouble found her, she came forward to lay that claim. It never occurred to her than the help she looked for might actually bring more trouble than she could handle.
Bear broke my heart in the last book and I was really looking forward to his book and glad it didn't disappoint.
"When I'm with you it's like you put me up on this fucking unreachable pedestal. I don't deserve that kind of admiration and sometimes, it scares the fucking shit out of me."
Being a biker, loyalty was ingrained in him, but Bear knew who his true brothers were and he was punished for his choice. What I love the most about him was even though he suffered, he wasn't selfish enough to rope in other people into his problems.
I don't usually love a female character but I did love Thia. She was very young and took responsibilities when the adults around her failed to do so. She had a tinge of badassery and a whole lot of innocence – which not something that would normally appeal to me but it worked with her.
"Fuck, Ti, you may not have pulled the fucking trigger, but I got a feeling you're going to kill me yet."
I like how the story developed and I especially love how Thia and Bear first met. It was so sweet and innocent, and a great set up to what's going to happen in their future.  I also love how the club business and the romance/friendship interwoven and worked both for and against their issues.
However, with that said, I felt disappointed with the lack of emotion in this one. I couldn't feel much for Bear. Considering what he been through, I wanted to feel his pain, but I felt more for Thia than for him. It made me feel less connected to him.
The ending was a bit predictable to me, but with a promise of new player, and the events that happened in this book, I am highly anticipating the conclusion of Bear and Thia story in the next book.
Final Verdict:
This review is also available on Goodreads.
Read as part of #ShhIndieSTARchat December
 
Website  |  Goodreads  |  Facebook |  Twitter
T.M. Frazier resides in sunny Southwest Florida with her husband and baby girl.
In the third grade she wrote her very first story about a lost hamster. It earned rave reviews from both her teacher and her parents although her spelling could have (and could still) use some help.
It only took her twenty years to start the next book.
The Dark Light of Day was her debut novel.
She LOVES talking books with her readers.