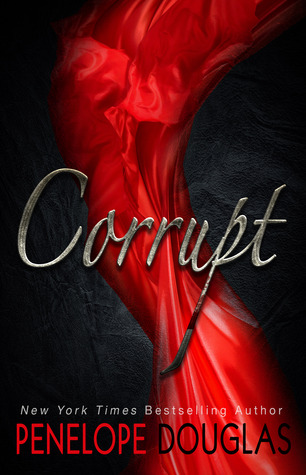 Title: Corrupt
Author: Penelope Douglas
Genre: Erotic Suspense
Type: Stadalone
POV: First Person – Dual
Rating:

Erika (Rika) Fane was born and bred in a privileged environment. Her whole life she had been coddled by not only her family, but also the surrounding community. Beautiful and smart, she was the darling of the society, but deep down inside she was desperate to detach herself from her past.
Michael Crist learned from a young age that he wasn't the chosen one. Though born in the same privileged life, he never felt like he belonged until he found his best friend Kai, Will and Damon. Together, they were the feared Four Horseman wreaking havoc just because they could. When three of them went down, they vowed to avenge by terrorizing the person responsible.
The blurb captured my attention with its promise of darkness, but I didn't find it dark. The underlying premise is dark, but overall is on the lighter side. Nevertheless, I still enjoyed this one very much.
They thought I was an easy target, and they mistook my quietness for weakness, but I was no longer their toy.
I admired Rika's need to break away from the chains binding her and I love how she was willing to fight for it. But at the same time, I'm not a fan of her. She seemed more like a meek kitten than a tiger most of the time.
I had every intention of hurting her beyond repair.
I definitely loved Michael. The darkness and the intensity within him were alluring. He was hell bent on destroying Rika and I enjoyed seeing him warring with his emotions.
"When you want to make an impression and you think you've gone far enough, go a little further. Always leave them wondering if you're just a little bit crazy, and people will never fuck with you again."
I love every single one of the Horsemen. Each of them had their own inner demons to conquer. What they did might be wrong, but I love how liberating it was to them.
I like the revenge storyline, but I was hoping for a slightly different path to the ending – something that would make the story more impactful. This was my first Penelope Douglas book and I love her evocative writing. I always appreciate when authors are detailed with the environment because I need to be in the story for me to feel it.
"Did it?" I asked, barely audible. "Did it turn you on?"
My favorite scene was the steam room scene. That was well… steamy lol! I didn't expect it to happen and honestly I can't really see the need/significant of it, but I am not complaining at all :p
Corrupt is a tale of revenge that will make you pant in both suspense and sexiness.
This review is also available on Goodreads.