Title: Hot To Trot
Author: C. P. Mandara
Genre: Erotica
Type: Book 3 of The Pony Tales series
POV: Third Person
The viciously attractive Mark, with the unfaltering smile, has a day of endurance planned for Jenny that the devil himself would find challenging. His artful temperature play has her screaming, his anal dilators have her howling and a ride in the sybian's saddle leaves her virtually unconscious, but the day is far from over. A group of ladies, with wandering fingers, are given the task of transforming Jenny into a sweet, submissive little pony who will be left looking 'hot to trot' in no time at all.
After an exhausting day of training, Jenny has only escape or rescue on her mind. Alas, escape is rather difficult when you're naked, dressed in thigh high pony boots and have your hands immobilised in leather mittens which are clipped behind your back. Besides, escape isn't all that important – not when you're desperate for your next orgasm, it isn't.
Copy provided by the author in exchange for an honest review.
Jenny Redcliff's first day of hell at Albrecht Stables was only halfway through.  She still harbored hope of being rescued until Master Mark Matthews foiled her plan and showed her what happened to disobedient ponies.
I have to say, I'm beginning to feel that I wouldn't mind being in Jenny's place haha!
'Now it seems that my Mr Adorable persona isn't working for you. Let's take it a step further then, shall we? It's time to meet Mr Damn-Fucking-Awful. Buckle your seatbelt, filly, because you're in for quite a ride.'
Mark is one of the reasons why. He just oozed sex appeal and I love it even when he's being awful.  Like Jenny, he was also battling his own inner struggle regarding their situation.
He enjoyed the admiration of women and the instant lust in their eyes when they saw what lady luck had delivered on their doorstep.
A slew of new characters were introduced in this book from the Stables staff, other ponies and a new Mistress and Master.  From the look of it, the new trainers would have a bigger role in the next book. Also, some secret behind Jenny's stay at the Stables was revealed.
Hot To Trot mainly focused on Jenny's first round of training where pain and pleasure started to meld together, making her confused yet highly aroused. The ending promised some kind of showdown for the next book. I can't wait to see what's going to happen to Jenny next.
Final Verdict:
4 Golden Cocks
This review is also available on Goodreads.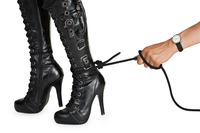 Website  |  Goodreads  |  Facebook |  Twitter
Christina Mandara was born in the UK, but has spent most of her life travelling the world. She speaks three languages and has been chiefly employed in the fields of finance and travel. Her favourite city is Sydney and her favourite holiday destination is the south of France.
She loves keeping fit and enjoys running, cycling and water sports. No, not those kinds of water sports; think surfing or sailing. That doesn't mean that she doesn't enjoy BDSM in all of its glorious forms, be that pony girls, bondage, edge play, orgasm denial or a damn good spanking. Her favourite item in the toy closet (a box simply isn't big enough) is her riding crop.
In her spare time she's usually cuddled up with a good book, exploring the countryside or baking in the kitchen. In fact, she loves her kitchen so much she's one of few woman who wouldn't mind being tied to it! Her first and foremost love is writing, however, and more often than not you'll find her on a laptop spinning tales of romance, erotica or dark, paranormal fantasies.
Those in the BDSM world might wonder whether Ms Mandara is a top or a bottom. Is she currently training a herd of pony boys or is she stabled up, in full leather tack, with the pony girls? It's a good question. Answers on a postcard please or try and figure it out yourself by visiting Ms Mandara's blog:www.christinamandara.wordpress.com