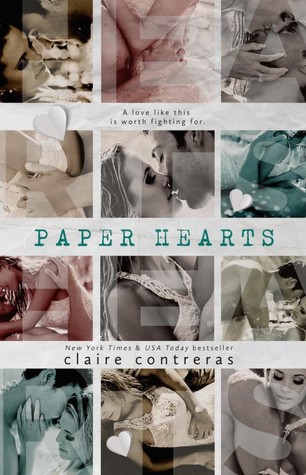 Title: Paper Hearts
Author: Claire Contreras
Genre: Contemporary Romance
Type: Standalone Book 2 of Hearts series
POV: First Person – Dual
I lost her.
No, I didn't lose her. I threw her away.
She was my best friend.
I was never supposed to fall in love with her.
I was careless.
She was heartbroken.
I was doing fine until she came back into my life and reminded me what love was supposed to feel like.
When it's all said and done, she may not want to stay, but this time I'm going to do everything in my power to not let her go.
Copy provided by the author in exchange for an honest review
Jensen Reynolds was an author of a successful children book and a newspaper columnist. He was making a life for himself in New York, but deep down he was still longing for the love he once lost due of his own indiscretion.
Mia Bannett was a photographer with a big dream. When opportunity knocked on her door and took her to New York, she was excited yet scared of the possibilities. On one hand it meant advancement in her career. On the other hand she would be forced to face her past because time doesn't necessarily heal.
I was definitely intrigued when I first read Torn Hearts, the novella that accompanied this book. I could feel their animosity towards each other and I was hoping for some big heartbreak in this book. No ugly cry here (not even regular cry really) but there were definitely some other strong emotions felt for Jensen and Mia.
"Pain isn't just losing the person you love. Pain is losing the person you love, seeing them with somebody else, and not interfering because you know you can't give them the life they deserve."
Oh Jensen… how much my heart ached for him. In the novella, he was pretty much on my shit list. What he did was really bad, but to be fair to him, based on their situation, I can't totally blame him. And now, he opened up his heart and willingly let it being stomped over – and it was stomped over to a mulch.
From the moment she looked at me, I felt like I'd been found.
I do like Mia because I could understand her resentment. But there were times when I want to just bash her head to the wall (and take Jensen for myself of course lol!). I like how she pursued her dreams but sometimes she just refused to see the bigger picture.
What I love the most about their relationship was how much past they had together. It was all rainbows and unicorn and how it was all ripped out by one single mistake. And I love that we got to see how each of them felt and cope with the devastation. And I also love the support systems they had, especially that they were the same people to both of them.
Paper Hearts is a story of forgiveness and acceptance that focused not only on love but also family and friendships.
Final Verdict:
This review is also available on Goodreads.
Read as part of (F)BR on Shh…
Website  |  Goodreads  |  Facebook |  Twitter  |  Instagram
Claire is a New York Times & USA Today Best Selling author, mother of two, wife of one, owner of three dogs, and breast cancer survivor.
She enjoys writing anything from children's stories to erotic suspense, but her most notable work is a contemporary romance. When she's not writing, she's reading and dreaming about places she wants to visit.