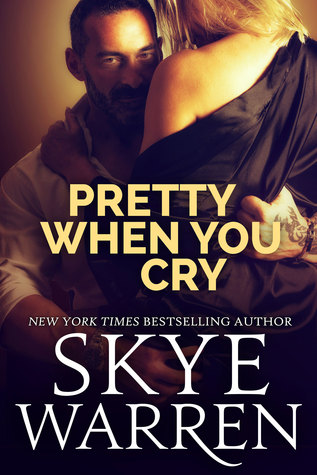 Title: Pretty When You Cry
Author: Skye Warren
Genre: Dark Erotic Romance
Type: Standalone Book 3 of Stripped series
POV: First Person – Female
Expected Publication: October 20, 2015
A new dark romance novel from the New York Times bestselling author of Wanderlust and Prisoner…
I came from a place of dirt floors and holy scriptures. They told me the world outside was full of sin, and the first night I escape, I find out it's true. Ivan saves me, but he does more than that. He takes me. He makes me his own girl.
My conditioning runs too deep. Ivan sees what I am.
That's the thing about showing a mouse to a cat. He wants to play. And it's terrifying, even for me. Because the only thing darker than my past is his
Pre-order at:
ARC provided by the author in exchange for an honest review
Candace grew up in a life bound by perverse religious teachings where rewards and punishments were determined by how much one sinned. She escaped their clutches and ran as far as she could with the limited resources she had and ended up in front of the Grand.
Ivan was the reclusive owner of the Grand, a strip club and meeting place for all other underground dealings. He took Candace under his wings where she turned her life around as Candy, the most popular stripper of the Grand. But a new life doesn't mean she could run away from her past, when the past never really let her go.
I never really liked Candy in previous books, but I've always been intrigued by Ivan and their somewhat volatile connections, so I was excited to finally get the story behind it.
"This is what makes you special, little one. Countless people have tried to hurt me, to kill me. You were the one to slay me." 
I was attracted to Ivan, not by his physical appearace, but by the power he yielded. I love how untouchable he was and how responsible he was towards the people under his care. He wasn't a hero you swooned at, rather a hero you respected.
I certainly saw Candy in a new light. I never thought she had that kind of background since she was the flirtiest one. It's amazing to see how she transformed from a scared timid young girl to who she was today, but behind that persona she was still the girl she left behind – obedient and in need of a "protector".
He doesn't make the pain go away. He makes me want more.
This book was certainly the darkest one in the series, in term of both of their backgrounds and their current needs. They had a certain proclivity when it comes to their sexual needs – the daddy/little girl dynamics. I've read such filthy kinky books, but I felt a little weird about it in this one. Probably because I've never read it in "serious" setting lol!
There were a lot of spanking, but I wish there were more of the actual sex. There was a reason for the lack of it, but I was hoping when it happened it'd be hotter. I also wish there was more to Ivan's past. There were some indications that could be elaborated but left unexplored.
Pretty When You Cry is a story of a woman's escape from captivity and reinventing herself while still haunted by the past with added darkness and kinkiness.
Final Verdict:
This review is also available on Goodreads.
Website |  Facebook   |  Twitter   |  Pinterest  |  YouTube  |  Goodreads
Skye Warren is the New York Times and USA Today Bestselling author of dark romantic fiction. Her books are raw, sexual and perversely romantic.