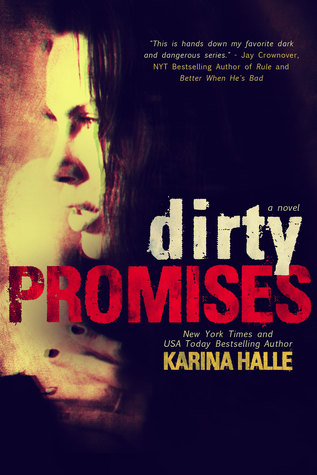 Title: Dirty Promises
Author: Karina Halle
Genre: Romantic Thriller
Type: Book 3 of Dirty Angels series
POV: Shifting – Multiple
Rating:

Javier Bernal was a broken man after losing his sister. He fueled his devastation by unleashing it to anyone and everyone. With his attention ruthlessly focused on expanding his empire, his relationship with his wife Luisa started to crack.
And that crack didn't go unnoticed to his ever determined right hand man, Esteban Mendoza. With stakes high for both his professional and personal life, Javier had to fight for his right to be King.
Javier has been my main man since I first read about him in Sins & Needles. But then he broke my heart with his personality change in Dirty Angels. Now with Dirty Promises, he's back, in a way what made me drawn to him in the first place – the ambitious and merciless crime boss that he was.
Your family is the first thing you'll lose. Your soul will be the last. Luckily, I didn't have much of either anymore.
Javier's ruthlessness turned me on like no other heroes ever could. He desire for power and revenge trumped anything else. But at the same time while loyal to his cause, he still had the capability to use his heart.
I never liked Luisa since the first book. Her character felt forced then, but now she was more believable. I still didn't like her, but I did felt sorry for what she had to go through.
He hid under the persona of being young, dumb, careless man and even though he certainly wasn't smart, his capacity for inflicting pain and suffering was beyond my understanding.
Esteban was a character I liked since the beginning. Even though he was untrustworthy, I like the persona he portrayed (as mentioned in the quote above). I love that he seemed light and carefree with a hidden darker edge. I also appreciate his ambition which reminds me a lot of Javier.
It's funny how far revenge can drive you, you're willing to give up so much for just one sweet taste.
I must say I'm happy Karina Halle is back doing what she can do best – the thrill and the suspense. There was never a dull moment throughout the book. The violence and the depravity might not be something that everyone could handle, but they were not misplaced. It was a reality of what life in crime is like.
There were not much sexy times but they were memorable for sure. There was one particular scene towards the end that got me all hot and bothered. My only wish is for it to go much further than that. If only it wasn't interrupted…
Dirty Promises was thrilling and suspenseful, keeping you on your toes while possibly making you cringe and turned on at the same time. If you like your book fast pace, full of vile characters and disturbing scenes, this one could be a winner.
This review is also available on Goodreads.