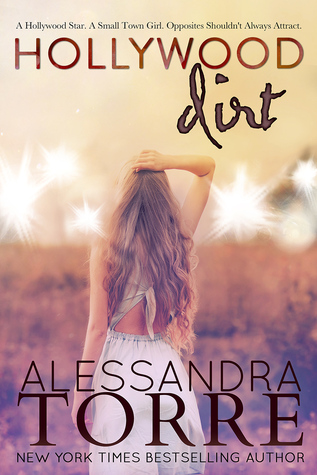 Title: Hollywood Dirt
Author: Alessandra Torre
Genre: Contemporary Romance
Type: Standalone
POV: Shifting – Dual
Publication Date: September 7, 2015
Cole Masten. Abandoned by his superstar wife, Hollywood's Perfect Husband is now Hollywood's Sexiest Bachelor: partying hard and screwing even harder. Watch out Los Angeles, there's a new bad boy in town.
Summer Jenkins. That's me, a small town girl stuck in Quincy, Georgia. I cook some mean chicken and dumplins, can bluff a grown man out of his savings in poker, and was voted Most Friendly my senior year.
We were from different worlds. Our lives shouldn't have collided. But then Cole Masten read a book about my small town. And six months later, his jet landed on our dusty airstrip, and he brought Hollywood with him.
From the start, I knew he was trouble. For our town. And for me.
Sometimes, opposites just aren't meant to attract.
AmazonUS | AmazonUK | AmazonCA | AmazonAU | nook | iBooks | kobo
ARC provided by the author in exchange for an honest review
Cole Masten was a jilted Hollywood superstar. Being newly bachelor, he spent his time enjoying sampling women who willingly throw themselves at his feet. That was until his latest project brought him to a small town of Quincy.
Summer Jenkins was a simple country girl looking for a ticket to get out of her sleepy town.  The movie production gave her the opportunity to make herself useful while getting the money she needed to finally be somewhere else. She never expected to get much more than she bargained for.
I have been a fan of Alessandra Torre's writing because they are either dark, sexy, edgy or the combination of those. When I first found out about this book, I was excited to see something different but also worried how am I going to like it. Well, I did end up liking it after all.
My feeling for Cole shifted a few times throughout the book. At first I felt sorry for him for the things he had to go through in his personal life. Then he started to show more of his assholey side and I like him even more. What I love about him the most that he was a balanced character. He had just enough of the good stuff to make him real and likeable.
She was such a paradox. In some ways, the strongest woman he'd ever met, her fire and spite and self-sufficiency clear and defined. In other ways, she was the softest, most vulnerable.
I like how the feisty Summer was (outwardly) unfazed by Cole's status and by the movie world in general. I also like how she adapted to it. She had a past she wasn't proud of but she still lived her life with her head held high.
"Can you put on some pants?" she snapped, looking back at him, her eyebrows raised accusingly. "It's rude to waltz around with your junk out."
Even though this book was sweet and cute, it wasn't all lovey dovey (or else I won't survive it haha!). I love how they banter with each other and they had a good level of intensity with the push and pull.
I enjoyed being immersed in the lifestyle and mindset of the countryside. I also love seeing the behind the scenes of the movie production.
I did not expect Summer's choice in the story, but it did made for a more interesting read. Though I have to say I wish it was sexier. I also wanted more exploration when it comes to Scott.
My favorite scene was definitely the fateful dinner flashback. The whole book I was wondering what on earth happened that night and when it was finally revealed, it was worth the wait because it was hilarious!
Hollywood Dirt is a departure from Alessandra Torre's usual work and it showed how versatile her writing is. It was sweet, endearing and also amusing.
Note:
I love Ben and I love the epilogue making the reveal surprising without making it sickly sweet. Also love the special appearance. I haven't met him officially yet, but I already love him. And of course how could I ever forget Cocky :p
Final Verdict:
This review is also available on Goodreads.
Website |  Facebook |  Twitter  | Pinterest  | Amazon  |  Goodreads
Alessandra Torre is a New York Times Bestselling author who focuses on contemporary erotica. Her first book, Blindfolded Innocence, was published in July 2012, and was an Erotica #1 Bestseller for two weeks. She hit the NYT list with her sixth novel, Black Lies.
Alessandra lives in the gulf coast of Florida and is married, with one young child. She enjoys reading, spending time with her family, and playing with her dogs. Her favorite authors include Lisa Gardner, Gillian Flynn, and Jennifer Crusie.