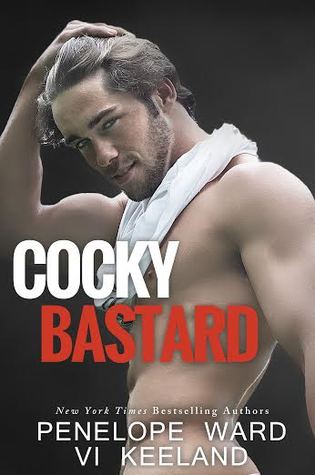 Title: Cocky Bastard
Author: Penelope Ward and Vi Keeland
Genre: Contemporary Romance
Type: Standalone
POV: First Person – Dual
Rating:

Aubrey Bloom uprooted her life and moved cross country for a fresh start. In the middle of the long road trip to California she took a break at a rest stop, only to continue the journey with one extra passenger.
Chance Bateman a cocky Aussie guy was also heading to the same destination when his bike broke down. He made a deal with Aubrey so he could hitch a ride. What started as a simple ride quickly turned into something else as they took detours in the trip and in life.
I saw this book a lot on my GR feed when it first came out and it got me intrigued. I've read a book by Penelope Ward, but not Vi Keeland, so I thought this might be a good way to break into a new to me author. I'm glad I ended up enjoying this one.
I stocked up on typical stalker snacks. Fun dip, Sour Patch Kids, popcorn and, of course, Pixy Stix. The cashier looked at me like I might be luring kids into the back of my van at the corner of the local elementary school.
Chance was an easy to love character. Besides being physically hot with a juicy biteable ass, he also spoke with Australian accent. And yes, I did read all his dialogue in my head with an Aussie accent haha! He's also very funny with his sexual innuendos.
Aubrey was the more uptight one, but she could keep up with him. She had a certain level of vulnerability that I like
"When I say scared the shit out of him…I now mean literally. Bugger took a dump all over your backseat."
One of my favorite characters in this book is definitely the goat. Yes, one of the reasons I chose to read this book is because of the damn goat haha!
The story was divided into two parts. The first part was light and hilarious, so I didn't expect the second part to have a different tone. The book has a split personality because the second parts was more serious and even a little angsty (with bits of comedy sprinkled in between). But I don't have problem with that and I actually like it that way because you get to see a different side of the characters.
Cocky Bastard is an entertaining and amusing story about taking chances and fighting for what you want. It's a good choice if you're looking for something light, but also fulfilling.
Note:
I need to try some cock sauce haha!
This review is also available on Goodreads.