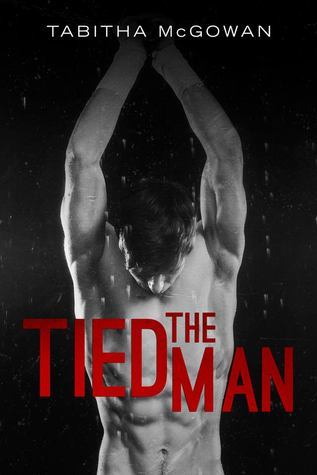 Title: The Tied Man
Author: Tabitha McGowan
Genre: Dark Romance
Type: Standalone book 1 of The Tied Man series
POV: First Person – Dual
Rating:

Lilith Bresson was a famous artist forced to return to her homeland to repay her father's debt by doing a painting for Lady Blaine Albermarle. She was invited as a guess at Albermarle Hall not knowing the true horror hiding behind the luxurious gateway façade.
Finn Strachan was Lady Albermarle's handsome young companion. Behind the prim and proper persona, he was a man desperate for any kind of escape he could manage. But Lilith's arrival brought in complications he didn't see coming.
What first caught my attention about this book was the unconventional role of the hero and heroine. It's not something you find a lot among the chock-full of alpha heroes on bookshelves.
'Y'know what my job is, huh? It's to say 'Yes' and keep saying it until whoever's paying decides they've had enough. It doesn't matter if I'm not happy, or if it disgusts me, or even if it hurts like I'd rather fucking die. So deal with it. I have to.'
I think it's impossible for anyone not to love Finn. He was a helpless victim but that didn't make him weak. It took strength to endure the things he had to as long as he did.
It took me a while to warm up to Lilith. She was a fierce, independent female character, but she could also be abrasive at times. What I love about her is that she knew when to fight and when to be docile.
In my long and illustrious career I had been fucked by a procession of evil bastards, but none ever quite matched the sublime cruelty of Blaine.
I think it's been a long time since I truly hated a character and Blaine earned her place in this one. And she hardly even lifted a finger.
'And that means the less of this… kind of thing there is, the easier it'll be for you. Sometimes the more you have, the more you'll miss it when it's gone.'
I love the secondary characters, Henry, Gabriel and Nat, each in its own way. I love Nat since the beginning and I was so angry with Lilith at how she treated him.
The story flowed at a good pace and I don't think it's that dark. I mean there were some horrifying scenes that would be hard for those with gentler heart/stomach to read, but the overall feel was lighter than I expected. There were also some funny bits scattered throughout the book.
"But at the end of the day, everything I do costs me. The only question is how much."
What I love the most about this book is the friendship between Finn and Lilith. I didn't see The Tied Man as a love story. I saw it as a story of friendship and sacrifices. And it certainly not erotic. There were explicit scenes but it wasn't meant to titillate. Instead it was used to show the horror and the depravity of Albermarle Hall.
Personally, one thing I found to be a bit of a challenge was the writing. There were a lot of British words and slangs that I'm not familiar with and I had to constantly refer to dictionary and Google. I also wish there was more to Finn's background.
For the ending, I might be among the very few who actually love it ended that way. I would be perfectly content with it but of course I would still read book 2 when it comes out.
The Tied Man was a story of two individuals who formed a beautiful relationship by feeding off each other's strength to survive physical and psychological assaults. It is recommended to those looking for an unconventional story and don't mind delving into the depraved world of sexual slavery.
Note:
The Tied Man is a complete story that can be read on its own.
This review is also available on Goodreads.