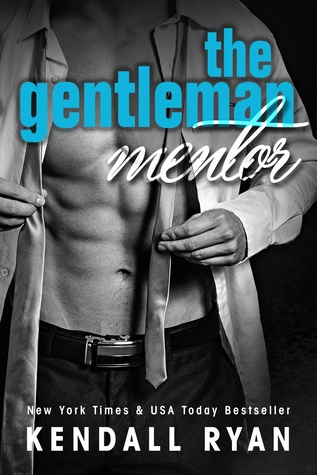 Title: The Gentleman Mentor
Author: Kendall Ryan
Genre: Erotic Romance
Type: Standalone Book 1 of Lessons With The Dom series
POV: First Person – Dual
Rating:

Brielle has been in love with her best friends for the last five years. The problem is, he had no clue about it or even showed any romantic interest on her. She was tired of waiting and chose to take matter into her own hands by hiring the Gentleman Mentor – a sexual mentor to teach her the art of seduction to get the man of her desire.
Cameron Hale was successful in his professional life. In his other life, he was a Dom and chose to impart his knowledge to women who needed them. He always saw them as nothing more than a clients that he would forget the moment the last lesson was completed. Brie was supposed to be just another client and Hale was just supposed to be the mentor. But things turned complicated when emotions were pushed in the mix.
Before reading this book, I was expecting a lot of spanking and whipping but it wasn't the case at all. The Gentleman Mentor was very light on the BDSM element, but it was heavy on the hotness!
Never getting too close. It was the only type of relationship I saw myself having with a woman. The exchange of power was exactly what I craved.
Hale was certainly a panty-melting hero. He was an alpha but one with a good heart. His past was the thing that paved his path as a sex mentor.
I need to enjoy this time and my lessons with him. Ride the wave, so to speak, and whatever other body parts he'll allow. Because, dear God in heaven, the man fucks like a wildcat.
Brielle was likeable. Though there were a lot of times I wish she valued herself more and I'm glad she did at one point.
Hale and Brie had good chemistry. The sexy scenes were sensual and not overdone. I like how a lot of times it was emotional for either or both of them because they were both trying to fight the undeniable attractions.
The storyline was simple and straight to the point.  I wish there were more issues/conflicts. There were a few but it was too brief and resolved too easily.
Also, there were a few secrets that were too easily revealed. As a reader, I like to figure things out on my own.
Overall, The Gentleman Mentor was sexy and fun with a little sprinkle of BDSM to spice things up.
Note:
(F)BR as part of Shh.. SPOTlight on PRE-chat with Kendall Ryan in preparation of her LIVE chat on Jul 21.
Got down and dirty with SuSu(eBee), Loyda, and Mer(cedes) [and Jabberwocky, Denise and (E)Liz(abeth].  Yes a lot of shhluts :p
This review is also available on Goodreads.