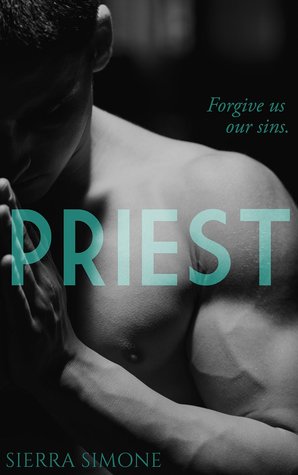 Title: Priest
Author: Sierra Simone
Genre: Erotic Romance
Type: Standalone
POV: First Person – Male
Rating:

Tyler Anselm Bell was a young, attractive priest of a small town. He was very much loved by his parish for his work in revitalizing the local church and community. Life seems to be on the right track until a newcomer came to town.
Poppy Danforth was a blue blood from a big city. But her beauty and expensive education seemed more like a curse to her. To get away from all that, she hid in the small town to re-examine her purpose in life.
He could use her worldly knowledge, while she could use his spiritual guidance. Together, there's no telling who's the saint and who's the sinner.
Before I start, it is important to note that this book is an erotica that pushed the boundary on religious matters. It will provoke your beliefs and might greatly offend some people. If you cannot handle such materials, stay away from this book. In fact, stay away from this review too because it contains quotes that might be deemed offensive.
I stopped seeing a penitent.
I stopped seeing a child of God.
I stopped seeing a lost lamb in need of a shepherd.
I saw only a woman in need—ripe, delicious need.
When I first came across Priest, I knew this would be something I'd want to read. The promise of a taboo story was as enticing as the forbidden fruit. In that aspect, Priest delivered what I expected – shock value in term of filthy unadulterated sex.
Tyler was more worldly than divine. I believe that made him more human and relatable. He joined the church due to a personal tragedy and worked towards the goals he believed in. Even though personally I believe his reasoning was weak, he had a purpose.
"I want you so badly—but if I have you, I'll ruin your life. How do you think that makes me feel? Do you think I want to shred apart your livelihood, your community, all for my sake?"
Poppy on the other hand, I couldn't necessarily see the motives of her actions. Her choices and her interactions sometimes contradicted with who she was.
Could I unzip myself quietly enough that she wouldn't hear? Could I jack myself right here in the booth without her knowing?
As mentioned earlier, the sex scenes were scorching. It added to the fact that it was done in a taboo way. It made it so much dirtier when you know it should be wrong. I am not a Christian or even religious in general, but there were points where I thought the scenes were unnecessarily offensive and probably written to blatantly provoke a reaction.
I have no complain when it comes to the erotic element. I certainly enjoyed the filth and the dirty talking priest. But I wanted more when it comes to the story. The issue they had to overcome was supposed to be big, but the way the decisions were made and how things were resolved felt too trivial to me. I just wanted something more… dramatic/soul searching/heart shattering solutions.
"My little lamb," I whispered. "You are so very, very wet right now."
Overall, I truly enjoyed feeling naughty while reading the book. If you want to try this, read it with an open mind and take it at face value, you might very well enjoy it.
This review is also available on Goodreads.