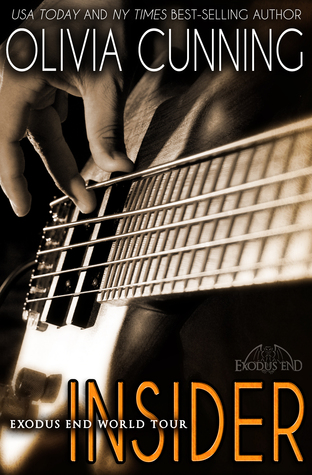 Title: Insider
Author: Olivia Cunning
Genre: Erotic Romance
Type: Book 1 of Exodus End series
POV: Third Person
Expected Publication: June 30, 2015
She thought she was ready to rock…
Toni Nichols put her aspirations on hold while she raised her little sister, but now she's reaching for the stars and living her dreams as the creator of a revolutionary interactive biography about the rock band Exodus End. Creating the book requires her to go on tour and immerse herself in the band's world as an insider, but can she gain the trust of four veteran superstars who've been burned by the media before? Or will her dreams crumble at her feet?
He's always ready to roll
Logan Schmidt was born an adrenaline junkie. He lives for the rush he gets from playing his bass guitar before thousands of fans. When he's not performing on stage or in the bedroom, he's looking for his next endorphin high in extreme sports. So what is it about the sweet and innocent journalist on their world tour that gets his heart pumping and captures his full attention? Is she the real deal or is she posing at being his perfect woman to get inside secrets on Exodus End?
They're both ready to experiment
Though Toni was innocent the first time she climbed the bus steps, that didn't last long once Logan set his sights on her. He's so much more worldly than she is and she's ready to learn how to please a lover and explore all the ways she can be pleased. Logan can't believe his luck. Toni's a phenomenal woman and she wants him to teach her how to rock and roll in the sack? Not exactly a burdensome task. Until she starts to get too close to his heart and takes her insider look to a place he never anticipated.
Pre-Order at:
ARC provided by the publisher in exchange for an honest review.

Toni Nichols finally caught a break in her writing career when she was assigned to write a revolutionary interactive biography for the huge rock band Exodus End. To get the inside scoop, she would be touring with the band for a month by getting to know the band members in more personal level and learned about the workings of concert tours.
Logan Schmidt was the bassist of Exodus End. His passion in life has always been music, extreme sports and women – and he got plenty of each one. He took Toni's sweet innocent demeanor as a challenge. As their friendship grow, their relationship status started to become a blur when it took them to a point neither of them experienced before.
I'm a fan of Olivia Cunning's Sinners on Tour series and have been waiting for this book for quite a while and had a high expectation for it. For me some parts were a hit, while others were a miss.
"Got yourself a vampire fetish?" He asked with a chuckle.
"What?" she managed to say. "No, of course not. Vampires aren't real."
"But I'm all about bringing your fantasies to life, babe. If you want to be banged by a sparkly dick, I'll go get the glitter."
Logan was definitely a lovable character. He was the fun, crazy one in the band. His antics provided plenty of laughter in the book.
I have a little problem with Toni's character. She was sweet and innocent, which shouldn't be a problem except that at times, her thinking was too innocent making her ridiculously naïve considering her age. However, I do love her insecurities and how she indirectly used her sweetness to get the band members to open up to her.
"Toni only has one sweetheart," Logan said.
"Is it Spiderman?"
Toni snorted. Where has she come up with that? "No, not Spiderman."
"Better not be." Logan scowled. "Slinging his sticky web all over the city. It's not decent, I say."
Birdie was Toni's sister who had a developmental condition. The two of them had a very close relationship. I thought it was cute how Logan accepted Birdie's condition and how he managed to subtly weasel himself in between the sisters.
As for the storyline, I wish there was more issue/drama. The turning point in the story was too predictable and was resolved too quickly – both of their own the personal issue. Also, I was hoping for some filthy sex scenes as portrayed in Olivia Cunning's previous book. Sadly, that was lacking in this one.
"He got me," he gasped and went still.
"Oh no!" Toni cried. "I need to suck the poison out."
One of my favorite scenes was the sock snake scene. It was really silly, but it perfectly depicted Logan's personality.
What I love the most about this book is how much the other band members were featured. We got more than a glimpse of their personality and background, setting a good foundation of what to come in the series. I'm anticipating some angst for Max and Dare's story. I know from the Sinners series a lot of people loving Dare, but I think I'm going to love Max.
Of course a few of the Sinners also made an appearance 😉
Note: Exodus End series is a spin-off from Sinners On Tour. You don't need to read Sinners book before reading this but if you plan to do that later, it does contain spoilers.
Final Verdict:

This review is also available on Goodreads.
Website   |   Goodreads   |   Facebook  |   Twitter
Combining her love for romantic fiction and rock 'n roll, Olivia Cunning writes erotic romance centered around rock musicians. Raised on hard rock music from the cradle, she attended her first Styx concert at age six and fell instantly in love with live music. She's been known to travel over a thousand miles just to see a favorite band in concert. As a teen, she discovered her second love, romantic fiction — first, voraciously reading steamy romance novels and then penning her own. Growing up as the daughter of a career soldier, she's lived all over the country and overseas. She recently moved to Galveston, Texas.