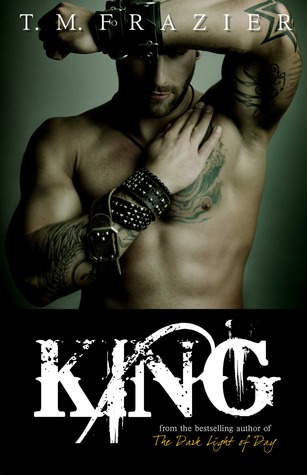 Title: King
Author: T. M. Frazier
Genre: Dark Romance
Type: Book 1 of 2 from King series
POV: First Person – Dual
Rating:

Doe was a lost and desperate soul. Waking up with no memory of who she was, put her life on a halt. Homeless and hungry, she befriended a junkie hooker who taught her a way to survive – by being a biker whore so she would be taken care of and offered protection.
There were plenty of bikers around for Brantley King's coming home party. But she caught the attention of the man himself. King was a tattoo artist cum criminal who demanded a payment after a botched incident. He never realized she was worth more than he initially thought.
King was certainly a book that brought out a myriad of emotions – which I love. I was sad, happy, angry and shocked.
I love Doe. I could feel her pain and confusion of not knowing who she was. The whole time she was struggling with what to do with her life because she couldn't move on with her future due to her uncertain past.
He looked tired. And not the kind of tired you feel after a long day, but the kind of tired that lingers no matter how much sleep you get or how much coffee you ingest. The kind of tired that is less about rest and more about unrest.

I knew this because I was the same kind of tired.
King was a force to be reckoned with. He was rude and a total caveman, but he also had a softer side that melted my heart. He had a goal that needed to be achieved by any means necessary.
"He may seem nice, but you'll learn that kid is a sick fuck who will smash your back door in without warning. He likes it when they scream. He likes it when they're passed out. He likes it even better when they say no."
I love King's best friend Bear and especially Preppy. He was such a memorable character. His quirkiness and his heart made me laughed and cried at the same time. One of my favorite scenes in the book was when he took Doe on a tour of their "business".
"Why don't you just gut me, and get it over with? Do whatever it is you want to do to me. Hit me. Fuck me. Fucking KILL me. Just. Stop. HURTING. Me."
I do love the premise of an amnesic girl struggling to remember her past and a man who's trying to pave way to a new future, and I do love both King and Doe individually. However, I felt they just didn't connect as well as they could be.
I do the love ending – the decision he made, but I'm on the fence with the revelation of her "real" life at the very end of the book. But it certainly made the readers wonder where the story is going to go in the conclusion of this two part series.
P.S.: Love that a couple of characters made an appearance in this book 😉
This review is also available on Goodreads.