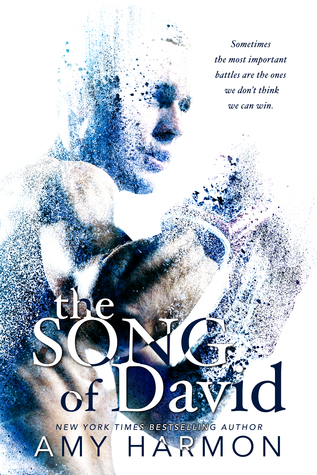 Title: The Song of David
Author: Amy Harmon
Genre: Contemporary Romance
Type: Standalone
POV: First Person – Dual (Male)
Rating:

David Taggert was a fighter since a very young age. He discovered not only he enjoyed fighting, but also good at it. Even though born privileged, he chose to pave his own way making a name for himself in the MMA circuit and built his own business that included a bar.
Amelie Anderson had passion for dancing. It was her escape from reality – the one thing that set her free and the reason she ended up as a dancer at Tag's bar. Together, the forged an unlikely bond that taught them about being strong not only for each other, but also individually.
Tag's was definitely one of my favorite sidekick. He first appeared in The Law of Moses and now his journey continued – front and center, after the events in the said book.
It was hard not to be taken by him. He was fun and kindhearted, always trying to make others feel better. A fighter who always fought for others.
"And I'd rather have a piece of a dream than no dream at all."
I liked Millie a lot. Even with some roadblocks, she navigated through life with her head held high. She was a strong and inspiring character.
"He's the eyes. I'm the heart. He's the hands, and I'm the head. That's what my mom used to say."
Henry, Millie's autistic brother totally captured my heart. His innocence was endearing and he taught the other characters around him a lesson or two in his own unique way.
"You rescue everyone. You have an invisible cape. You've been wearing it your whole life."
Of course there was Moses, Tag's best friend with the unbreakable bond they had. And what special about this book was how much Moses played a role in it. The book was presented in dual POV of the two best friends. Yet, never once I felt Moses overshadowing Tag or felt disconnected with Millie. It story was elaborated and blended seamlessly.
Overall, the story was beautifully written and the characters had good development. However, I did felt like something prevented me from being totally invested in the characters. Maybe I simply needed more heartbreak in between.
Note:
The Song of David is a standalone. However it is highly recommended for readers to read The Law of Moses first because the characters played big part in this book and for readers to understand the significance of their friendship better.
This review is also available on Goodreads.