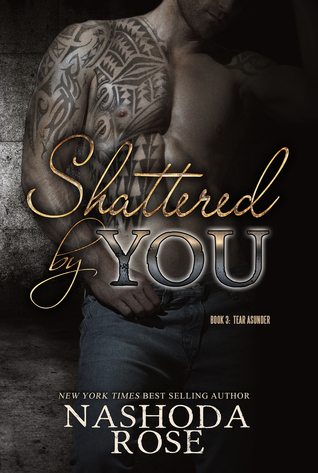 Title: Shattered By You
Author: Nashoda Rose
Genre: Dark Erotic Romance
Type: Book 3 of Tear Asunder Series
POV: First Person – Dual
Expected Publication: June 22, 2015
What started out as a deal quickly became a friendship that conquered monsters.
I killed, but I escaped hell.
Emotionless. Disconnected. Cold. A mannequin. It's what I'd become in order to survive the years held in captivity. I was able to endure the abuse and devastating loss as long as I remained detached.
But he wouldn't let me.
Crisis, the bass guitarist in my brother's rock band, Tear Asunder. He's cocky, rude, a total man-whore. But the rock star has far more beneath the surface of his inked skin, and he's determined to make me laugh again.
He made me a "deal", but really, it was blackmail.
His terms were simple. Until his playful honesty became the building blocks to something unexpected. Something strong enough to pull me from the eye of the storm.
Because even though I escaped years of abuse, it didn't mean I was free.
ARC provided by the author via Netgalley in exchange for an honest review
Haven Dedrick came from a horrific past. Being taken as a teenager and abused for the last 12 years hardened her. Now rescued, she was determined to start fresh by doing normal things like going to school and making friends. Yet at the same time, she was terrified how her past might shatter any hope of normalcy.
Crisis was the fun, rude and crude bassist of the popular rock band Tear Asunder. He knew of her bad past without knowing the details. He wanted to help her moved on but she was adamant in keeping up her walls because even though the past was behind her, the demons still refused to leave.
I love Ream because he's the brooding one, but Crisis caught my attention since the beginning of the series with his personality. I'm so glad this book cemented my love for him.
Crisis was a very playful and outgoing manwhore. What's not to love right? Haha! In this book, we got to see a different side of him.
Crisis was like breathing in fresh air. The beauty of him was that there were no lies. No mask. He said what everyone else was too polite of afraid to say.
He was still the outspoken and irreverent guy, but he also had an intense and a softer side. He was incredibly patient and respectful to Haven's wishes and needs.
Haven was a strong woman after surviving her past. But she was still a work in progress, yet she was unselfish. She refused to let people in because she didn't want her past to affect anybody's future.
"When you laugh, it's like being handed a piece of you no one else has ever seen."
Their relationship was slow burn. Crisis took time to melt her without being pushy. I love them together. They had good chemistry and the sexual tension was there but not overwhelming.
I slipped my hand away, down her inner thigh again then back up until my fingers tap-danced across her pussy again.
One of my favorite scenes was definitely the one in her class and extended to what happened after. It was hot and funny at the same time. Actually I love pretty much every time he went to see her at school.
Story wise, I really love how stories from other series were weaved into this one and characters from the same series were mentioned a lot and even made an appearance.
However, I felt this book was a little too Haven-centric. I wish there were more of Crisis, not only in term of his POV but also his story. He had his "issue" but it was forgotten without being resolved after a bigger issue came up.
I have to say, after reading this book, Crisis is my favorite in the series, but from the snippets of Kite's life we got to see from here, I am extremely excited for his book and anticipating for him to be my favorite.
Final Verdict:
This review is also available on Goodreads.
Website   |   Goodreads   |   Facebook  |   Twitter  |  TSU  |  Instagram
Nashoda Rose is a New York Times and USA Today bestselling author who lives in Toronto with her assortment of pets. She writes contemporary romance with a splash of darkness, or maybe it's a tidal wave.
When she isn't writing, she can be found sitting in a field reading with her dogs at her side while her horses graze nearby. She loves interacting with her readers on Facebook and chatting about her addiction—books.