Title: Uncharted Territory
Author: Tamsen Parker
Genre: Erotic Romance (BDSM)
Type: Book 3 (prequel) of The Compass series
POV: First Person – Female
Expected Publication: June 15, 2015
Before there was Cris, there was Hunter…
Eighteen-year-old India Burke has been waiting for as long as she can remember to escape her life of material feast and emotional famine. Going away to college offers separation from her noxious family and a connection with the best friend a girl could ask for.
While her peers are picking majors and navigating the pool of college dating, Reyes Walter introduces India to the intoxicating world of dominance and submission and to a man who will become utterly obsessed with her. Hunter Vaughn is older, handsome, and just the right kind of arrogant. And he's never wanted anything as badly as he's wanted to possess India.
As she comes into her own in these consuming relationships, where pain so often results in pleasure and submission is a gateway to freedom, it's difficult to define sacrifice. But when Hunter issues a ruthless ultimatum, India will have to choose: give up half of herself or break free of the bondage and belonging she's always craved.
Pre-order at:
ARC provided by the author in exchange for an honest review.
India Burke was an impressionable eighteen-year-old desperate to get out of her family clutches. Craving for any attention she could get, she steered toward her dorm Resident Advisor at Princeton, Reyes Walter who gave her exactly that.
Rey opened her eyes to the alluring word of dominance and submission. During her debut to the world, she caught the attention of a much older, distinguished Dom and event host, Hunter Vaughn.
Hunter demanded complete submission, but it might not exactly be what India had in mind.
Uncharted Territory is aptly named since it was a departure from the rest of the series. It had a different feel – darker and more angsty, the way I usually prefer my book to be.
I just wanted recognition. Someone to see me with something other than an "Oh, you again," look on their face.
Knowing India from the previous book, it was hard to read at some point. She was so young and so lost. She desperately wanted her family approval but at the same time wanted to get away from them as much as possible.
"You have many talents."

"More than you know. But one of them is finding people like us. And teaching them."
I've liked Rey since the beginning of the series. He was her ray of light since they first met. I love how protective he was of her while at the same time let her fly on her own enough not to suffocate her. He was her fairy kink-mother as she called it.
Hunter… I'm highly conflicted with him. On one hand, he was a highly attentive Dom. He took care of her welfare and very protective of her. On the other hand he was way too much. I felt suffocated just reading about how much he controlled her.
Glory pushes two fingers into me and I'm a split-second from coming. The stimulation is too much—the hand in my hair, the fingers in my mouth, my breasts being handled, my clit sucked, the fingers pumping in and out of me…
Since the book is about D/s relationship, there were a lot of beatings involved. Personally, I don't particularly find that aspect of their relationship as sexy, but there were a few hot scenes. One of my favorite was definitely their playtime with Constance and Glory where we got a scorching f/f scene. I wished it was longer though haha!
This book provided an insight to the mind of a sub in her needs to please her Dom while at the same time struggled to stay true to herself.
Final Verdict:
Note:
Uncharted Territory is the prequel to Personal Geography and can be read as a standalone. Other books in the series: Personal Geography and Intimate Geography.
This review is also available on Goodreads.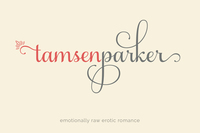 Website   |   Goodreads   |   Facebook  |   Twitter  |  Newsletter
Tamsen Parker is a stay-at-home mom by day, erotic romance writer by naptime. She lives with her family outside of Boston, where she tweets too much, sleeps too little and is always in the middle of a book. Aside from good food, sweet rieslings and gin cocktails, she has a fondness for monograms and subway maps. She should really start drinking coffee.