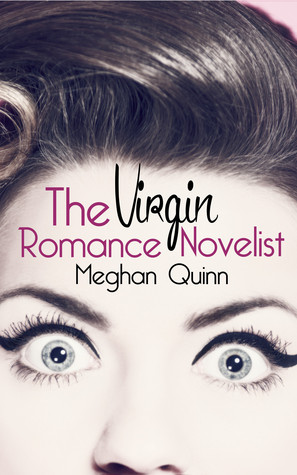 Title: The Virgin Romance Novelist
Author: Meghan Quinn
Genre: Light Contemporary Romance
Type: Standalone
POV: First Person – Female
Rating:

Rosie Bloom hated her job at the dreaded cat magazine. Inspired to be an author, she attempted to write romance novel in her free time. Romance novels need sex scenes and you have to be experience to write a good one. The problem is, Rosie was a virgin!
To help rectify the situations, she got help from her roommates and best friends Delany and Henry. With their "guidance", she embarked on the perilous road of dating resulting in unexpected circumstances.
It's been a while since I read a funny book and I'm glad this was the one that re-popped the cherry. This book was fun and provided lots of laughter. It will also make you feel good about your dating life haha!
I wasn't sure if it was my newfound ambition or the fact that my vagina could now see past the cloud of curls, but I was starting to get all tingly inside just from an interaction with a man. 
Rosie was naïve when it comes to love and sex because all the learned about it was from her mother's historical romance novels. Her naiveté, awkwardness and quirkiness made her very endearing.
Who knew getting your boob squeezed was such an integral part of being turned on? Hell, they were dangling milk sacs on a woman's body, but Jesus, Mary, and Joseph were they a pleasure button that shot straight to your lady cactus with a hydration mechanism. 
Her dating experiences were the thing that provided the readers with amusement. With each new man, she learned more about her own needs and moved closer and closer towards her goal of deflowering herself – with hilarious roadblocks in between them.
Her roommate Delaney was the fun, no-nonsense friend who pushed her to get herself out there. She also had no filter when it came to her own sex life.
My favorite character in this book was definitely Henry. He could charm the pants of anyone. I love his "training sessions" with Rosie. His cheekiness and his protectiveness made him very appealing.
I was waiting for the moment where Phillip ordered me to bend over the table so he could take me from behind while slapping my ass and telling me to come on demand, something I was pretty sure I would never be able to do.
I love how this book poked fun at some of the commonly used romance novels tropes/cliche.
My favorite of all her dates was the one with Alejandro – the exotic artist and his muse.  And umm… his lap broccoli lol!
Favorite scene has got to be the bullet vibrator incident hahah!
If you're a romance novel junkie looking for a good time read for laugh out loud high with self-deprecating humor, this book might just be it. A little warning though – don't read in public or you might embarrass yourself for laughing on your own haha!
This review is also available on Goodreads.