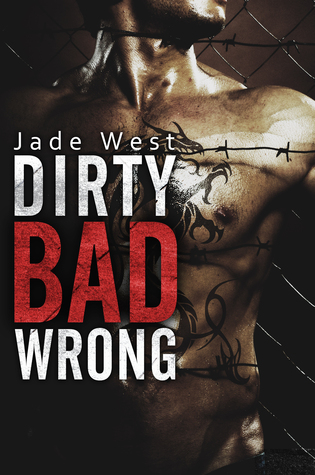 Title: Dirty Bad Wrong
Author: Jade West
Genre: Erotica (BDSM)
Type: Standalone book 1 of Dirty Bad Wrong series
POV: First Person – Dual
Rating:

As the project manager of Trial Run Software Group, Lydia Marsh thought her life was all in order. That was until she left her cheating boyfriend and became homeless. With nowhere to go, she sought solace in her office.
James Clarke, the mysterious, secretive CTO of the company, found her and ended up helping her getting a place to stay with his friend. That was all he's willing to do because he had a darker side behind a Masque that he was trying to contain. But Lydia's newfound empowerment and the desire to break out his beast was proving harder and harder to deny.
As the title suggested, the book was Dirty Bad Wrong, but I don't mind it one bit. It was actually wrongfully (depending on where you place your acceptable sexual behavior bar) fascinating haha!
Personally, I don't think the things that happened in the book were "wrong".  Yes, there were some scenes that were gag worthy but each individuals has his/her own kink that get them off, so who am I to judge right? And the fact that the author is a real life submissive just added to the allure.
"Who is he?"

"Masque," she whispered. "He's a God here… seriously hardcore. He's so fucking dirty bad wrong."
I did like James in both his professional world and his alter ego Masque in his kink world.  Though he was commanding as James, I did felt he was less so as Masque. Maybe because we didn't get to see Masque as much.
He didn't just want submission. He wanted tears and breakdown.
What I'd seen in Lydia was real. Beautiful, hot, raw pain; her broken soul peeking out through the cracks in her armour for just one single helpless moment, and I'd seen it. I'd seen her. 
Lydia was a relatable character. After a personal down, she needed a fresh new perspective in life and she found that in kink. She bottled her emotions up and needed a release in the form of physical pain.
"That's not piss, Cat. That's the beginning of a squirt. Give it enough practice and you'll be gushing across the room like the porno squirt queens."
Storywise, it was an entertaining journey into the world of hardcore BDSM. It had a lot of graphic scenes that were both hot and disturbing. However, when it comes to the "soul" of the book, it felt a bit short.
There were several things that could use expanding. For example, there was a character name Katreya that supposed to be significant to James in his past. But her story was left hanging aimlessly.
In my mind I saw Katreya's smile as she disappeared out of sight, goading me to follow her.
What was the thing with him and Katreya? Yes it set precedent to his tendencies but what happened to her? How did her presence/absence affected him? There was also Lydia's past behavior that wasn't expanded.
My favorite character in the whole book was actually Bex, a Dominatrix, who was James' friend and Lydia's housemate.
"I don't imagine James would have told you that I sit towards the lesbian end of bi. Is that a problem? I promise I won't molest you in the night."
She was a lot of fun and the one that opened Lydia's eye to their world. And there were some panty melting f/f scenes!
The cane was more savage than ever, blow after blow without pause, and I screamed and screamed and screamed.

"NO! PLEASE, NO!

"CRY FOR ME!" he screamed back. "FOR FUCK'S SAKE, CAT, CRY FOR ME!"
One of my favorite scenes was definitely the caning. It was intense and I wanted to see what he was asking from her.
This book is all kind of dirty, bad, and wrong. If you don't mind all that, you might end up enjoying it.
Note:
We're currently having a TopPick on Fave Kinky Heroes (May 17-23) on Shh.., so I used this book as post materials. You can check out some of the kinky lessons I gather from this book. There are scenes/quotes to help you gauge your interest in this book. There's sexy gifs too haha!
This review is also available on Goodreads.