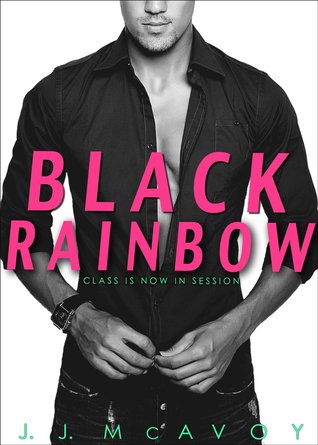 Title: Black Rainbow
Author: J.J. McAvoy
Genre: N.A Contemporary Romance
Type: Standalone
POV: First Person – Dual
Expected Publication: May 15, 2015
After an erotic one-week fling with a musician she meets in a bar, Thea Cunning never expects to see Levi Black again. Then Monday morning comes around, and she discovers that her former lover is not only her professor, but he's also one of the top criminal lawyers in the state of Massachusetts.
With everyone in class vying to be one of the twelve disciples—a group of twelve students that Professor Black takes under his wing—tensions run high. Thea considers dropping his class, given their passionate week together and their undeniable chemistry. After all, there are other (less infuriatingly sexy) law professors on campus.
But to accomplish her goal and get her father out of prison, Thea knows she needs to learn under the best of the best—and that's Levi Black.
But can she learn under the best, without being under the best?
Pre-order at:

ARC provided by the publisher, via Netgalley in exchange for an honest review
Thea Cunning was an aspiring lawyer on her bad day. To take off all the stress, she descended upon a bar only to be mesmerized by a handsome stranger. Instant attraction brought them to an agreement of no-strings attached sex filled week. Neither did they expect came Monday, all of that went up in flame when Levi Black turned out to be her professor.
I really like Levi, especially the duality of his personality – the carefree man during their one week affair vs the hardass professor/lawyer in his professional life.
It seemed there were two faces of Levi Black, and I, despite it all, wanted to know them both.
I love him when he's casual and caring but I love him more when he's being an asshole.  It just made me want to slap him, push him to the wall and ravage him haha!
For Thea, I like how she was a responsible person and the sacrifices she made for her family. She kept it together and focused on her goal, to the point she was afraid to take chances in her personal life. I love it when Thea turned to her darker side, but I felt like it wasn't properly explored when it could have been something that added to the story.
As for the storyline, it had an interesting premise, but I was expecting something with more intensity. I love the first part where the story went back and forth between present and past because that's where we got to learn about Levi's flip side but the past was told in each 7 days they were together and by the 3rd day it became somewhat repetitive. Yes we learned bit and pieces of information during the pasts, but not enough in my opinion.
"Have you ever seen a nuclear bomb go off? The people in the center, they don't feel anything. One minute they're alive, the next, they're just ash. It's the people who are far away that really suffer."
It also took a long time for a conflict to arise and when it did, it felt too small to compensate the amount of time spent for it to reach that point. And when it happened, it resolved too quickly.
What I love about the story is how Levi, even though he's the alpha, he was the one who's "softer" in their relationship. And some of the best moments were when they challenged each other professionally.
The epilogue, I'm sure many people would be happy with it. This is a strictly personal preference but I don't like ending that wrapped up in a big shiny bow and sealed with a kiss. But if you like such things, I'm sure you will be fully satisfied.
Black Rainbow would appeal to readers looking for a light read that centered on love and sacrifices.
Final Verdict:
This review is also available on Goodreads.
Website |  Facebook |  Twitter  |  Pinterest  |  Instagram |  YouTube |  Goodreads
J.J. McAvoy was born in Montreal, Canada and is currently studying Humanities at Carleton University. She is the oldest of three and has loved writing for years. She is inspired by everything from Shakespearean tragedies to Pop Culture. Her novel "Ruthless People", out July 17th, hopes to push boundaries and take her readers on a ride through the dark side. Please feel free to stay in touch via Facebook, Twitter, Tumblr and youtube, where she video blogs.