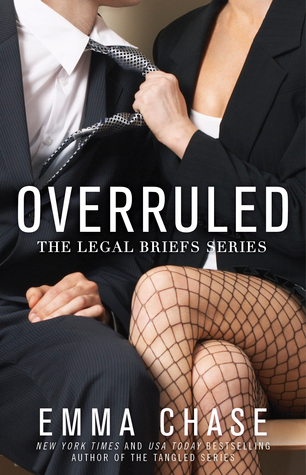 Title: Overruled
Author: Emma Chase
Genre: Contemporary Romance
Type: Standalone book 1 of The Legal Briefs series
POV: First Person – Dual
Expected Publication: April 28, 2015
Emma Chase, New York Times bestselling author of the Tangled Series, returns with the first installment of the Legal Briefs Series.
As a DC defense attorney, Stanton Shaw keeps his head cool, his questions sharp, and his arguments irrefutable. They don't call him the Jury Charmer for nothing – with his southern drawl, disarming smile and captivating green eyes – he's a hard man to say no to. Men want to be him and women want to be thoroughly cross examined by him.
Stanton's a man with a plan. And for a while, life was going according to that plan.
Until the day he receives an invitation to the wedding of his high school sweetheart and mother of his beloved ten-year old daughter. Jenny is getting married — to someone who isn't him.
That's definitely not part of the plan.
***
Sofia Santos is a city raised, no-nonsense litigator who plans to become the most revered criminal defense attorney in the country. She doesn't have time for relationships or distractions.
But when Stanton, her "friend with mind-blowing benefits" begs for help, she finds herself out of her element, out of her depth, and obviously out of her mind. Because she agrees to go with him – to The-Middle-Of-Nowhere, Mississippi – to do all she can to help Stanton win back the woman he loves.
Her head tells her she's crazy…and her heart says something else entirely.
***
What happens when you mix a one stop-light town, two professional arguers, a homecoming queen, four big brothers, some Jimmy Dean sausage and a gun-toting Nana?
The Bourbon flows, passions rise and even the best laid plans get overruled by the desires of the heart.
Pre-order at:
ARC provided by the publisher in exchange for an honest review
Stanton Shaw was a hot shot criminal defense lawyer in DC. He had his whole life in line with professional life until an unexpected wedding invitation from his high school sweetheart who happened to be his 10 years old daughter baby mama landed on his doorstep.
Feeling like he's losing his grip in getting back his sweetheart, he recruited his colleague and fuck buddy Sofia Santos to help keep him straight. Sofia, a city girl, was the exact copy of Stanton – ambitious, determined and always had her eyes on the prize. That was until she realized tagging alone with Stanton to a small town in Mississippi might not be the only mistake she made.
I have to say, Drew Evans from Tangle series is my favorite "light" hero ever. So when the series ended I was quite sad. But thank goodness Stanton Shaw is here to fill that void.
Stanton was no Drew (I mean really, I don't think anyone else could even match Drew's legendary status!) but he'd do just fine. He learned to charm from a certain someone after all. And his southern adorableness helped a lot too.
"I thought you said you couldn't cook."

I gestured to the pots and pans. "This? This isn't cookin'. This is grillin'. Totally different."
I felt like pinchin' his cheeks everytime he spoke with that southern drawl! He's confident, but not too much of being too cocky. And he's sweet in his own way.
Sofia could also hold on her own. She's smart, sassy and could go head to head with Stanton both on and off the courtroom. But I also the love her awkwardness when it comes to something she wasn't used to.
What we have – what he and I do together – is fun. Physical and convenient. And above all else, was supposed to be simple.
Her relationship with Stanton was purely physical until she saw something that she never thought she wanted and realized there could be more. I do love the chemistry between Stanton and Sofia. It didn't feel like it was shove down reader's throat. It developed organically.
"I'm thinking of growing a beard. Might save me from getting hit on by high school girls" – Brant
I also love pretty much all of the other supporting characters. Jake and Brant, their co-workers especially – which is good because they're going to get their own books.
I even love Jenny and JD who were Stanton's baby mama and her fiancée. One of the best scenes in the book was the BBQ event with the pepper scene. I laughed out loud on that one! I also love the drunk truck race scene. I love Stanton's siblings too especially Carter, his hippy "medicinal herb" grower brother.
Emma Chase is definitely one of the best male POV writer and I'm really looking forward to the rest of the series.
Final Verdict:
This review is also available on Goodreads.
Website |  Facebook |  Twitter  |  Goodreads
By day, Emma Chase is a devoted wife and mother of two who resides in a small, rural town in New Jersey. By night she is a keyboard crusader, toiling away the hours to bring her colorful characters and their endless antics to life. She has a long standing love/hate relationship with caffeine.
Emma is an avid reader. Before her children were born she was known to consume whole books in a single day. Writing has also always been a passion and with the 2013 release of her debut romantic comedy, Tangled, the ability to now call herself an author is nothing less than a dream come true.