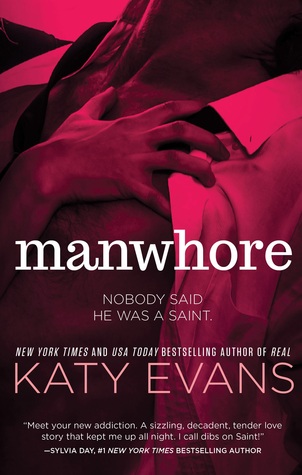 Title: Manwhore
Author: Katy Evans
Genre: Contemporary Romance
Type: Book 1 of Manwhore series
POV: First Person – Female
Rating:


Rachel Livingston was a reporter at the flailing company of Edge magazine. In order to save the magazine, they needed a big story. Eager for her big break she accepted the assignment without much thought.
Her assignment was to unravel Chicago's wealthy young businessman and manwhore extraordinaire, Malcolm Saint. As she slowly weaved her way into the inner circle, the line between work and play was inevitably blurred.
There's so many things that could potentially doom a billionaire romance story because they usually went for the tried and tested formula, which can be incredibly generic. Manwhore brought in something slightly different for added freshness.
Malcolm was certainly an Alpha, however he was very likable because he wasn't over the top at all. In fact, as much as he strived to get what he wanted, he was very patient and pretty much respectful about it.
Rachel was also likable. I appreciate the fact that she actually put her career first and not acting like a love sick puppy. I like that she had to learn and choose what's best for her and she did it without being wishy washy.
His lips were made to kiss, his hands to touch; that's the sole purpose of his thick hair: for women to cling to while he pounds them hard.
Overall, I do like the story, but there's just something that prevent me from loving it. I can't really tell what, but I feel like it's lacking an X factor. I'm not as emotionally invested in the characters as I would like. Part of it is because they lacked background story. We got bits and pieces but I still feel like we barely know Malcolm and Rachel.
With that said, I'm still very much looking forward to the next book and see how the story unfolds.
This review is also available on Goodreads.