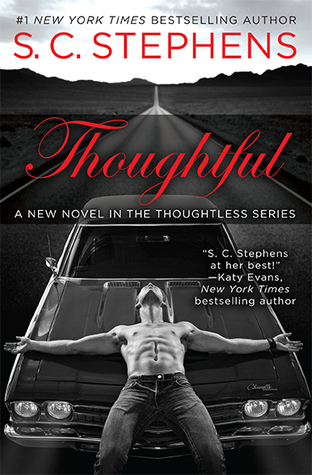 Title: Thoughtful
Author: S.C. Stephens
Genre: Contemporary Romance
Type: Book 1.5 of Thoughtless series
POV: First Person – Male
Rating:

Note: Since Thoughtful is a retelling of Thoughtless in opposite POV, I am not going to recap the story summary.
When I first read Thoughtless, I immediately fell in love with Kellan Kyle. So when I found out we are going to get his side of the story, I was thrilled even though I normally do not like opposite POV retelling.
For a retelling, Thoughtful is a long book. It rehashed the scenes from the original book play by play which I personally think is unnecessary. However, the saving grace was the fact that the retelling was mainly in the form of monologue instead or repeated dialogue. There were also a few new scenes in between to take readers into new experience.
After reading this, I understood how some people find this book hard to read. It really was painful and depressing and I've read a lot of painful and depressing materials but this one really drained me especially that I already know and love Kellan.
The first 50% was pain in both literal and emotional. Being in Kellan's head was incredibly depressing with his constant moping. The angst was one of the best things about the original book. This one was angst overload.
He constantly questioned his worth and his place. At first it was sad to learn how incredibly insecure he was. But then it just got annoying I feel like slapping him and tell him to have some self respect. Thank god the final 50% things picked up.
If I hated Kiera in the original book, I think it's pretty safe to say I hate her even more now because we got to see how much she hurt Kellan. The above quote broke my heart the most for Kellan.
Not only had Denny been a bright spot in my past, he had unknowingly given direction to my otherwise meaningless life. He'd set the mold for my future, and I would do just about anything to return the favor.
I've always love Denny from the (original) beginning. I love their friendship and the breakdown of their bond was heartbreaking.
 "You fucking piece of shit! You fucking pathetic, fucking selfish bastard! Your word is worthless! You are worthless!"
His fight with Denny was another emotionally painful scene. And the hospital scene was also one of my favorite.
Among all the pain and angst, thank god for Griffin. I fell in love with him all over again, so I'm looking forward to his book. I just hope he won't have a personality transplant. (I absolutely hate it when a fun/crazy character turned emo when he got his own book!)
This review is also available on Goodreads.
My alternative story/cover: