Title: Intimate Geography
Author: Tamsen Parker
Genre: Erotic Romance
Type: Book 2 of The Compass series
POV: First Person – Female
Publication Date: March 2, 2015
Fiercely protective of her heart, India Burke let down her defenses when Cris Ardmore went from another notch on her D/s playdate belt to everything she could never admit she wanted.
But being disowned by your family and betrayed by your lover aren't easy to get over, and India's old fears of intimacy creep in against a backdrop of professional drama that forces her return to a place that never really felt like home.
Though she proved her loyalty when it mattered most, love is about more than grand gestures and Cris wants all of her—which may be more than India is able to give. Can Cris and India navigate to a shared future or will they forever be off course?
** Please Note: Intimate Geography is Book 2 of The Compass Series and CANNOT be read as a stand-alone. Personal Geography, the beginning of Cris and India's story, released on December 1st 2014.**
ARC provided by the author in exchange for an honest review.
A significant event brought India Burke and Cris Ardmore closer together. After surviving a harrowing experience, India started to re-examine her tough exterior and chipped away the ice to slowly let Cris in.
However, old habits die hard and as much as she wanted to soften her stance, there was still a small part of her nagging in her conscious to protect her heart. And when a golden opportunity came knocking on her door, she must decide once and for all what is the most important thing for her to live for.
Intimate Geography started right where the first book left off. After the events that happened earlier, India decided to give their relationship a second chance.
Story wise, if the first book put emphasize on their BDSM relationship, this time around if focused more on their personal relationship and individual growth.  Both of them learned to find a middle ground.
I want to offer him something more precious other than my body. For the first time in years, I say the word to someone other than Rey. "I love you, Crispin."
I've always like India as a strong female character. But I also like how she adapted  to be more flexible without compromising her strength. I love her vulnerability of her unfamiliarity of doing things the normal way.
He's at peace in his body. And why wouldn't he be? He's a masterpiece honed by the ocean. A work of art with a hard-on.
In previous book, I wanted to know more about Cris and I'm glad we got that now where we got to meet his parents and learn more about his friends. However, I think he was overshadowed by India a little because he was much softer now than before.
The book was at an average pace with enough issues to keep it going. However, I do have a couple of issue that nagged me. One was the scene jumping. The author would build up tension for a certain event to happen, only to cut the scene to the after instead of elaborating it with a scene.
Another one was the unfinished feeling when it comes to the supporting characters like Slade and her dad. It felt like they were faded out without additional explanation.
As mentioned earlier, this book focused more on their relationship than previously, but I have to say the sexy times were hotter than the last time. One of my favorite scene was with the switch right before they went to his parents' house. And the angry sex with certain someone was smoking hot.
Intimate Geography is the conclusion of India and Cris story. There will be other books in the series and I'm hoping it will be about Slade because I'm intrigued by his character.
Final Verdict:
This review is also available on Goodreads.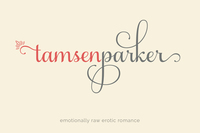 Website   |   Goodreads   |   Facebook  |   Twitter
Tamsen Parker is a stay-at-home mom by day, erotic romance writer by naptime. She lives with her family outside of Boston, where she tweets too much, sleeps too little and is always in the middle of a book. Aside from good food, sweet rieslings and gin cocktails, she has a fondness for monograms and subway maps. She should really start drinking coffee.