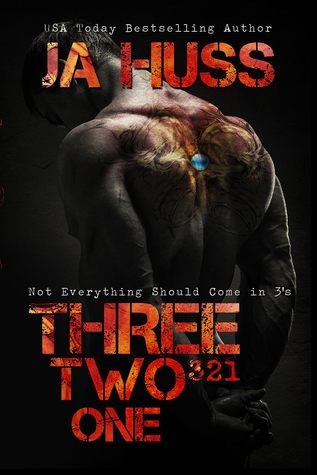 Title: Three, Two, One
Author: J.A. Huss
Genre: Dark Erotic Suspense
Type: Standalone
POV: First Person – Dual
Rating:

Ark and JD were two best friends and porn industry millionaire. They ran a porn company scouring girls on the street to perform sexual act in public setting with Ark as the cameraman and JD as the actor.
One day they stumbled upon a woman looking lost and in desperate need for help. They offered her protection if she would offer something else in return. Out of option, Blue took the offer. However neither of them expected that encounter would lead to something more as each of them had reasons to need one or the other even as secrets and lies started to weigh down their unconventional relationship.
When I first picked up this book, I did not expect the story to go to the direction and unfolded the way it did. I also did not expect to be emotionally invested in the characters.  But I'm glad it did all that because I love this book.
I came to town with money and a goal. But I didn't know how to reach that goal until I met JD.
I love Ark ad JD's friendship – how it began and how much they cared for each other. From the beginning, I knew I was going to love Ark. He was dark and brooding and took control in decision making for the duo.
JD was the complete opposite. He was fun and charming. He was the light to Ark's darkness. As much as I love Ark, JD was my favorite and he has a special place in my heart because I can't help but to love a vulnerable character.
I love Blue too. She was not what she seemed and I understood her choices and her motivations. I knew why she needed them, and I knew why JD needed her. But it took us until the end of the book to finally understand why Ark was in the equation. It could potentially be frustrating to (impatient) readers, but in this case I thought it worked perfectly.
Everybody's got a past. Everybody is running from some demon or another. Everybody needs a second chance.  
Three, Two, One may not be for everyone, but if you're able to look past the characters indiscretions, you'll find it's not all about sex, lust and love, but it's also about friendship and sticking up for one another even if it laced with lies and hurts.
P.S.: I love how the characters defined the significance of three, two, one throughout the book.
Read The Bonus Scene HERE. WARNING: Contains spoilers
This review is also available on Goodreads.