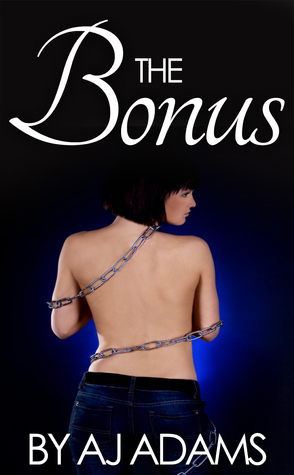 Title: The Bonus
Author: A. J. Adams
Genre: Dark Erotica
Type: Standalone
POV: First Person – Dual
Release Date: May 2014
Chloe is a seasoned drug courier who finds herself in the wrong place at the wrong time. Facing a lingering and painful death at the hands of the Zetas, Mexico's most brutal cartel, she persuades their enforcer to claim her. Has Chloe made a huge mistake, or will her choice prove her salvation – and his?
Warning: This book contains explicit scenes of dubious consent, graphic violence and sex.
Copy provided in exchange for an honest review 
Life's a bitch, 'cause if it was a slut, it'd be easy.
Chloe was a seasoned drug courier who recently been re-assigned to the Mexican regions. Out of desperation, she teamed up with a stranger to score a fix only to find herself in trouble with the area's cartel boss.  With her life on the line, she persuaded a man to save her by offering what she knew best – her body and her submission.
The man turned out to be the cartel's enforcer – the one who did the dirty works. Kyle accepted Chloe's offer as the bonus of his hard works for the cartel. She thought she would please him for a few days and get on her way. He thought he would use her and toss her away when he's done. But things turned out more complicated than they planned.
Before starting this book, I expect it to be dark, but soon enough I discovered it was not exactly what it seemed. Yes, it is dark as in it contained graphic violence, but writing was done in a light way and the characters' personalities made me chuckled a few times.
I love how the book started. It kicked you right in with (somewhat of) a torture scene, introducing the readers to the life of the men of crimes. I like seeing all the different personalities of the supporting characters. The main characters had good amount of background story for the readers to understand where they came from and how the view life.
Chloe was a character I had hard time understanding. There was a big contradiction between her mannerism and her thoughts and the two didn't connect as seamlessly as I would expect.
She was a former submissive who was tortured and trained by, her former Master. She was deathly afraid of him and then suddenly it took only one night for her to think he was just a puppy and even insulted him. I think the change was too much too soon.
I like Kyle. Even though he's the enforcer of the cartel, deep down he was a nice guy and he was in the business not exactly by his choosing.
Overall, it was a pleasant read if you're looking for a dark book without the dark and depressing feeling.
P.S.: I like how the author gave a shout-out to Pepper Winters and Q Mercer within the story in this book.
Final Verdict:
This review is also available on Goodreads.