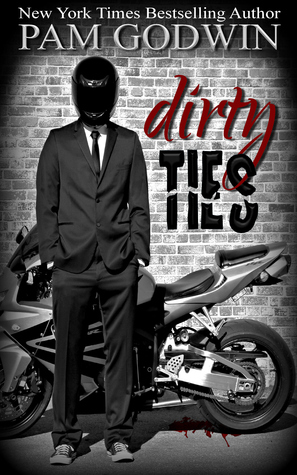 Title: Dirty Ties
Author: Pam Godwin
Genre: Romantic Suspense/ Erotic
Type: Standalone
POV: First Person – Dual
Rating:

The strongest love begins from a place of conflict.
Kaci Baskel came from a privileged life of the upper crust Chicago. She was married to media darling Collin Anderson, and together they were part of the Trenchant Media empire helmed by both of their parents.
She had the wealth, the dream career and a loving husband. However, behind the glitz, Kaci was a lonely woman, bound by forced obligations, searching for a more meaningful life. To escape her perfectly poised façade, she turned her interest to an illegal underground racing.
Night and after night, she watch it with fascination and focus her attention to the undefeated champion The Evader.
The Evader representing the things she craved – freedom and anonymity.
Revenge wasn't my only aspiration in life, but if it was the only thing I accomplished
The Evader, raced not for glory, but for one thing only – revenge. Burdened by a tragedy at the tender age of 13, he vowed to right the wrong and all the wrongs pointed to Trenchant Media and he planned to infiltrate the organization as the sexy and smart Logan Flynn.
It was inevitable that Kaci and Logan's path would cross and that path was laden with deceptions, manipulations and the eventual destructions of what they thought they hold dear.
What first caught my attention about this book was the superbike racer hero. I used to love MotoGP racing and I feel the book world is lacking such heroes because everyone seems to be ramping for MC series with the Harleys and leaving out the Ducatis (which is sooo much sexier!). So Pam Godwin, thank you for bringing sexy back haha!
I love the story of revenge because I think it's such a strong motivation (albeit not exactly a positive one even if it's justifiable) but with every story of revenge, when it is merged with romance, you can probably guess where it will head to. I like the story, however I would like it even more if the story careened towards a slightly different direction to make it more standout. And when it came to the politics part, I was slightly bored because I'm not interested in such things.
As I said before, I loved racing so I love the visual descriptions of the underbelly of the underground racing with the backstreets, the spectators and the thrill of the race.
I like Logan, but to my own surprise I didn't love him. Actually, maybe I love Evader, but only like Logan.
He was a dark poem, a sexy attitude, the epitome of rebellion.
Yeah all the sleek hard body between your legs (I mean the bike you dirty bird haha!) is oh so sexy, when he's not on one he slightly lost his appeal. I guess Van Quiso (from the author's Deliver series) ruined me for all the normal guys lol!
I think Kaci is one sexy lady especially everytime she straddle her hot Italian stud – her Ducati mind you.
I wanted her straddling me, bent forward and ass up, her thighs gripping mine like her life depended on it.
Though at times I wish she had more spine and rebel against her "captors" more and give them a big ef you.
Now  Benny, that one I love! I think she brought some fun and lightness to the story and I love her friendship with Logan.
Despite her childish outer layers, what stared back at me was profound, organically-evolved intelligence, albeit off-the-grid and not always identifiable.
If I want to summarize what I think about Logan, his racing and his agenda, I think it's appropriate to say that he's the love child of Batman and James Bond. That's so hot. I love all the high-tech gadgetry he had.
One of my favorite scenes was the Logan baiting Collin scene. That was funny. I also love the "on the bike" scene at the end. I waited so long for that to happen thank goodness it did!
Overall, Dirty Ties had an exciting aura of speed and technology with plenty of rubber burning sexy scenes.
This review is also available on Goodreads.