Title:Intimate Geography
Author: Tamsen Parker
Genre: Contemporary Erotic Romance
Type: Book 2 of The Compass Series
Expected Publication: Mar 2, 2015
Fiercely protective of her heart, India Burke let down her defenses when Cris Ardmore went from another notch on her D/s playdate belt to everything she could never admit she wanted.
But being disowned by your family and betrayed by your lover aren't easy to get over, and India's old fears of intimacy creep in against a backdrop of professional drama that forces her return to a place that never really felt like home.
Though she proved her loyalty when it mattered most, love is about more than grand gestures and Cris wants all of her—which may be more than India is able to give. Can Cris and India navigate to a shared future or will they forever be off course?
Pre-Order Intimate Geography at $2.99! Regular price is at $3.99
Other Books by Tamsen Parker
Personal Geography (The Compass #1)
Amazon  |  Kobo  |  B&N
 Winter Rain Anthology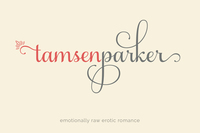 Website   |   Goodreads   |   Facebook  |   Twitter
Tamsen Parker is a stay-at-home mom by day, erotic romance writer by naptime. She lives with her family outside of Boston, where she tweets too much, sleeps too little and is always in the middle of a book. Aside from good food, sweet rieslings and gin cocktails, she has a fondness for monograms and subway maps. She should really start drinking coffee.