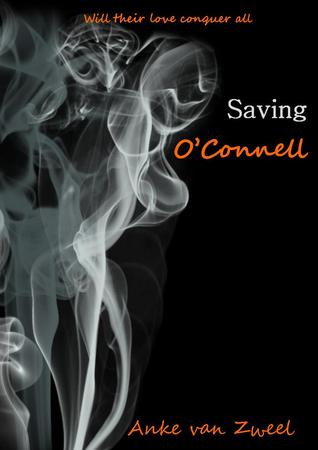 Title: Saving O'Connell
Author: Anke van Zweel
Genre: Contemporary Erotic Romance
Type: Standalone Novella
Publication Date: Nov 18, 2014
POV: First Person – Male (with 2 chapters of Female)
Brian O'Connell has lost everything even his will to live. That is until he sees Samantha Harrison, Brian realizes that he might not want to leave this earth without fully living his life.
Samantha Harrison was never a girl for romance but until a stranger offer up his seat on a train for her she starts to second guess her theory.
A chance encounter turn strangers into lovers.
Brian struggles with the battle between his heart and head, his fear of hurting Sam versus him not being able to live without her in his life.
Their love will be tested more ways than one but will it survive, will their love for each other be strong enough to save each other.
Does love really conquer all….

We have been at Jimmy"s for over two hours. I am starting to feel the effect of the four beers and five tequilas. I am starting to loosen up, singing to "Any way you want it" by Journey. The day and week a long forgotten memory.
As I lean in to shoot the eight ball in the right corner pocket, I catch something out the corner of my eye and miss the pocket.
"Dude, that was an easy shot. Easier than that you will not find." Matt says while his laughing "I know I got distracted," I replied
"By what, the red head sitting there?" Matt says teasingly
"Red head is not my type, it is yours," taking a long sip from my beer "and anyway I think she is checking you out, not me."
Matt turns, glances at her, and takes a sip of his beer "Well, you"re right. Wish me luck, bro," and off Matt goes.
I take the last sip of my beer. Looking around, there is no girls here that is worth my effort tonight. Let me just get out of here. I nod in Matt"s direction and he gives me a thumbs up. My queue that he is okay. As I reach the door, I bumped right into someone stepping on their toes "I am so sorry." "It"s okay. It"s old feet," she says and then our eyes meet
"You, you"re the train guy," she says with a smile "Are you leaving now?" I"m in shock, I can"t even speak. Here in front of me is this blond haired, blue eyed beauty that takes my breath away. It takes me a few seconds before I realize that it"s her, the girl from the train.
"Yeah, I was going to get some fresh air." I see the smile fade from her face and eyes "I will stay if I can buy you a drink and get your number." I tell her with a smile
"Well, I am actually here to meet my friends. But by the looks of it the others aren"t here yet and my best friend is occupied." she points to the red head sitting there at the bar with Matt. I laugh and she looks at me as if she doesn"t get the joke "The guy your friend is sitting with is my friend." a smile crosses her face.
"Sam," she says holding out her hand with a warm smile "My mom said never to let strangers buy me drinks or give them my number."
Copy provided by the author in exchange for an honest review.
Brian O'Connell was a firefighter still reeling and dealing with a personal tragedy. He struggled with it so much that it robbed him of his will to live. He had made his choice when a chance encounter with a mysterious woman put his plan to a halt.
He saw her on the train on his way to his final destination. Her face haunted him and he just had to know who she was. And as if destined, they met again and started to hit it off.
Sam literally brought him a new lease in life. She brought him happiness that he hadn't feel since the day of his personal tragedy. But what Sam didn't know was that Brian had a personal demon that could shatter their bliss.
This book was a simple, uncomplicated quick read about finding love when you least expected. It was sweet with a tinge of sexiness. It was a commendable effort for a debut novella.
The storyline was decent, but I do wish for more intensity between the two characters. Brian's concerns were understandable and realistic and his demons were fully explored. Sam's however, felt incomplete.
I might have demons but I know Sam has hers also.
It was mentioned more than once that Sam has her own secret but I didn't think I got it from the book. I was thinking maybe it was her encounter with that one person from his past, but it just didn't make sense for that to be her secret because it wasn't something significant that could put strain on their relationship. Also her issue with her parents wasn't fully explored.
This is the first book that I've read with a firefighter as the main character and I like it. I like that we got to see a glimpse of his work, of how not only it was physically draining but emotionally also.
I also like that Brian was at times portrayed as a confident, cocky alpha, but he also had his vulnerabilities. I just wish the two sides converged more seamlessly.
One issue that I find to be distracting was the editing. It could use extra look to tighten up the sentences. There were sentences in a dialogue that were repeated immediately in a monologue that came after that. It was redundant.  There were also more than several typos and incorrect spellings.
Overall it was an entertaining, quick and light reading. I could imagine someone reading it while waiting for/on a train – which would be really appropriate considering the scene in the book. Who knows, maybe you'll meet your other half that way too 🙂
Final Verdict:
 This review is also available on Goodreads.
My husband says I am a concealed nerd…. I love reading books, playing playstation and pc, I am a huge comic book fan and I am an aspiring Author. My 3 passions is fashion, movies and books….
I have a weird hobby where as soon as I realize that a movie has been adapted from a book I just have to buy the book and then later the dvd……..
I am sometimes a bit to serious and not very good with joking around (not very Scorpio of me)
I always get my way and if I cant I will find a way to get it.
I do get lost in books – so bad that I dream of the book in such a way that I am part of it, which makes it very exhausting some times cause if it is a thriller or action I would fight the whole night in my sleep.
I do love history and WW2 is my favourite part of history.
I never thought I would be an author, and one day of boredom I decided to try writing a book and it actually came really natural.
xoxo