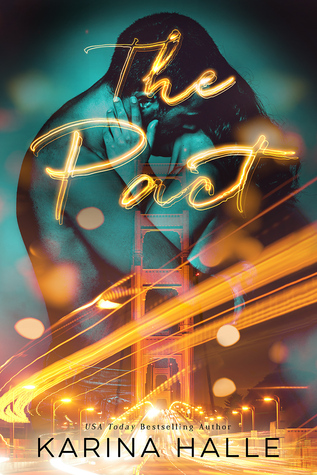 Title: The Pact
Author: Karina Halle
Genre: Contemporary Romance
Type: Standalone
POV: First Person – Dual
Rating:
She was my baby blue and I was her cowboy. 
Sometimes, the best person for you is right in front of you. All you have to do is take a chance.
Stephanie and Linden has been best friends since they were 21 years old. One day, tired of the grueling dating scenes, they made a pact to marry each other if neither of them was in a relationship by the time they were 30.
Something that started as a joke became something that defined their relationship as the date rapidly approached. However, things were not as easy as it seemed when there were other things in the equation in the transition between friends and lovers.
If you're looking for a fun, light and easy read, this book is the perfect choice. I can totally imagine someone being immersed in the story while sipping on a Piña Colada on a hammock by the beach. I like the storyline. It was a simple, uncomplicated plot but an enjoyable one.
I really love how the first few chapters flowed towards the countdown of their 30th birthdays. We got to see how they interacted with each other and their friends, and got the feel of their friendships.
Sometimes she really makes me want to pull my hair out. And I don't want to do that. I have very nice hair and I hear it's easy to lose at this age.
I love Linden. He's confident without being too cocky. He's also a lot of fun. Throughout the book, I smiled and chuckled at the things he did or said. He even brightened up some of the more somber scenes with his irreverent behavior.
"And the next time you tell a girl you love her, make sure you know what the word means. I don't think you have a fucking clue."
I liked a lot of female characters but rarely loved them and Stephanie was one of lucky one. She was independent, fun and feisty.
I know James must be in a lot of other people's shit list, but I actually like him! I know the things he did was really petty, but I get him. I really do.
One problem I have with this book is when they were presented with an issue, the way they resolved it was too immature. They were in their 30s, surely they can do better than that!
Overall, it was a light entertaining read. I'm glad I chose this book to be my final book of 2014.
This review is also available on Goodreads.