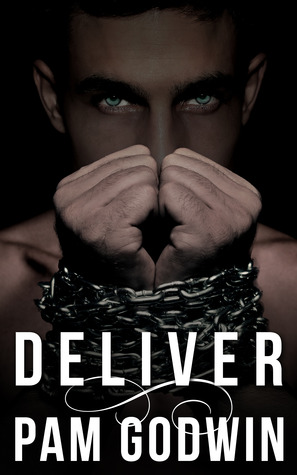 Title: Deliver
Author: Pam Godwin
Genre: Erotic Thriller
Type: Standalone book 1 of Deliver series
POV: Third Person – Dual
Rating:

The first thing that lured me to this book was the female slave trainer. It was something different than what's been offer in this type of books.
Liv was a Deliverer who scouted, trained, and delivered sex slaves to rich perverted clients. She worked and lived with Van who she had a past with. She didn't chose to be in that life, rather coerced into submission
"She was stolen innocence, following the rules of monsters. Somewhere along the way, she'd become one."
For seven years, she successfully trained and delivered seven slaves without a hitch. That was until she met her 8th victim. Josh was a popular college student with religious background – someone totally different from her usual target. By choosing him, she risked breaking apart the mortar that held her motivations in surviving the life.
"You're going to hell." His lips twitched then erupted into a full-faced smile. "Oh, good. I was worried you'd be there without me."
One thing that I love the most about this book is there were a lot of revelations, twists and turns – and I didn't even remotely expected most of them. I like when I read a book all fine and dandy, and then something hit me like a slap in the face. It makes me feel good (FYI no, I'm not a pain slut lol!).


I love Liv. I love how she had different personas for different situations. I love that she was as broken as the ones she broke. Though if I could wish for one thing, it would be that we didn't know about her actual situation too soon. I'd like to hate her a little haha!
Josh, is a bit of a conundrum for me. He's everything that looks good on paper, but I just couldn't relate to him (partially must be because I'm usually more attracted to the bad boys and the creeps!). And I'm not really a fan of extreme "personality change". I know extreme circumstances could change your perception in life but I thought he might went a little too far. Lord help him!
Van… oh my god, Van, Van, Van. From the moment he first came in the book, I knew there was something about him that placed him in a special spot in my heart. He's creepy alright. Even "his things" made him extra special to me. Oh by the way, "his thing" towards the end was extra creepy haha!
I do love the story, but my biggest problem is I actually wanted to know more about Liz's past with Van than her future with Josh. I guess I'm a little smitten with Van. I also think there was too many unfinished business between Liz and Van.
"Someday, I hope to matter to you, because you are the only one who matters to me. You will always be mine, Liv."
Overall, I love the twists in the story and I love the characters (have I mentioned I love Van? ❤). I'm kicking myself for waiting this long to read it.
This review is also available on Goodreads.