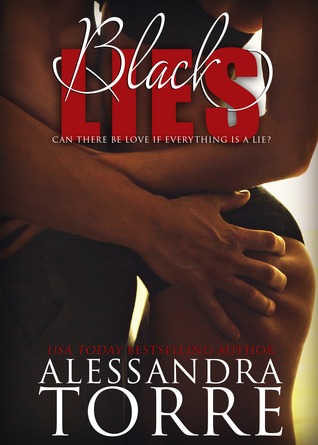 Title: Black Lies
Author: Alessandra Torre
Genre: Erotic Romance
Type: Standalone
POV: First Person – Female (partially dual)
Rating:


Layana came from the upper breed and expected to behave a certain way by her parents and society. One day she met Brant, a brilliant tech billionaire who was a perfectly poised gentleman. They fell deeply in love and were heading towards happy ending when things moved to different direction after she discovered his secret.
 I didn't have him. I only owned half of him. The other half? It was living a life I knew nothing about. 
Then she met Lee, who was a complete opposite of Brant. Lee was crass and reckless but made her blood heat up with his sexual appeal. She started to fall for him while still deeply cared for Brant. While Brant made her feel safe, Lee made her feel alive.
I know it is wrong, but my love is too strong to feel anything but right. I can't lose Lee. And I did all of this out of love for Brant.
Layana had to make a choice not only for herself but also for both man that she loved and that choice came with a potential to ruined everything she worked for.
I love this book, but I wished I started it without a preconceived notion because I ended up discovering the secret very early on. It took away the shock factor or else it would have been one of my favorite books. Black Lies was full of lies, deceits and manipulations and the beauty of it was it was all done for love – the right kind of love.
I like Layana and I understood why she did it. I could only imagine what it feels like to have to live that kind of life.
I really love Lee even when he was being such a dick.


I totally see the appeal he had on Layana. Being with him was dangerous yet exciting. And the sex scenes where he's concern was freakin' hot – raw and carnal. I have a soft spot for him especially towards the end.
I didn't really care for Brant until I saw his struggle with his secret. From that point on I couldn't help but fall for him.
When I first read this book, it kept mentioning the secret and I was anxious to learn it and made me keep flipping the page to find out. But I first got the feeling what it was when I realized why there were SPOILER> no physical descriptions of the two men <SPOILER.
I was actually hoping for a certain comeback at the very end of the story. That would have been a perfect ending for me. But it doesn't matter because I still love it and think this book is brilliantly written.
This review is also available on Goodreads.