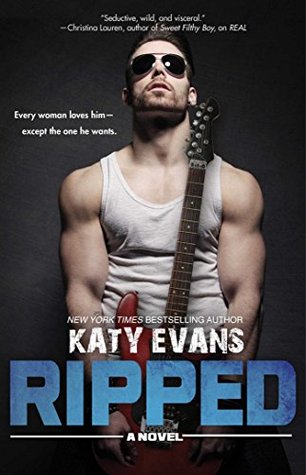 Title: Ripped
Author: Katy Evans
Genre: Erotic Romance
Type: Book 5 of Real series
POV: First Person – Dual
Rating:

Note: Ripped is part of the Real series, but this book can be read as a standalone.
Pandora was first introduced in the series as a man hating goth. Everyone knew it was a man that made her that way but no one, even her best friends knew who the person was. Ripped, torn away her secrets to reveal the man behind her pain.
He was my first love and my first everything, including my first heartbreak.
Pandora and Mackenna met and fell in love at 17. They were the opposites, but drawn to each other. However, their relationship went on for a year in secret due to her fear of repercussion of the situation their families were in.  They planned a life together until one day things went down and ripped them apart.
Six years later, Pandora was a bitter man hating, non-believer of love, while Mackenna was living his dream as a rockstar. He's coming back home, while she plan to exact her revenge. But things didn't go as she planned and they ended up in close quarters as she tried to shield herself while he was determined to break down her wall.
I'm Mackenna fucking Jones, and I'm going to damn well have her if I want her.
After finishing the first three books in the series, I wasn't really interested in reading Melanie's and Pandora's story, but I still picked up Rogue and ended up loving the story. So I was having high hope for Ripped. In the end, I like it, but not love it.
I was loving the story until about 50% marked when it started to feel dragged out – the same issue being brought up. It wasn't until about 80% that it started to pick up again. Though way before the end of the book, I already figured out every single one (if not fully, partially) of his and her secrets. The revelations were predictable and that resulted in subtracted points from me.
I didn't really liked Pandora until Rogue. I was intrigued to finally find out the story behind her façade. I do get why she was bitter like that and it was sad. She was still hurting by her destroyed first love and couldn't open up her heart anymore for the fear of a second heartbreak.
I love Mackenna with how he was determined to get Pandora back but still give her space and hard time. However, I don't understand the concept of his band. This doesn't have anything to do with the storyline but something I'd like to address. He's in a rock band that mash up classical music with rock (which something I love in real life). He wore leather pants with pink wing (among others) and wore glitter on his chest while dancers pranced around all over him. Okaaay….. I'd still do him though hahaha!
I did found several inconsistencies in the book. The book is dual POV and in one chapter that was supposed to be his POV, there was one sentence from her POV. There was also the scene of them backstage during the first sex scene (which was panty melting by the way!). She was wearing a. jeans, but then he tugged her skirt up, when they done, she put back on her jeans. What exactly was she wearing?
Overall, I do like the book. I like that there were tension in their relationship and the sexy times were hot.
P.S.: I love that he wrote a song for "her" in the epilogue.
This review is also available on Goodreads.