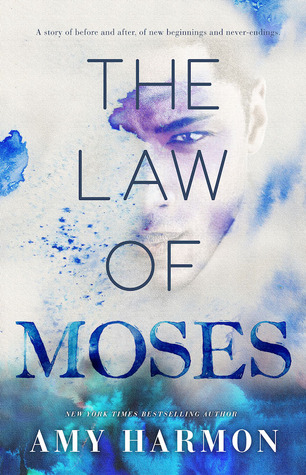 Title: The Law of Moses
Author: Amy Harmon
Genre: Contemporary Romance/Mystery/Suspense
Type: Standalone
POV: First Person – Dual
Rating:

Note: Before I start with the review I just need to say something. If you want to read this book, do it with an open mind. This book is about life and death. This book is also about love and acceptance/forgiveness. Take a close look at the cover and the title, you'll get some idea it touched ethnicity and religion. However this book didn't preach either – it was mostly used simply for symbolism.
I have been reading non-stop for the past year and recently I checked out the list of book I've read this year. I've read so many that some of the books I don't remember what it was about, even worse some books on the list I didn't even remember reading! And it's not even been a year.
But then once in a while I came across a book that left a permanent mark in my heart. It could be the story (typically it's something that made me ponder about life or something that shattered my heart) or an element in the main character that made it captivating. The Law of Moses succeed in both.
Georgia was a spunky 17 years old cowgirl who liked to make Moses, her 18 years old neighbor life a hell. Moses was a loner with a special ability who used his painting as an outlet, which a lot of times got him into trouble.
"In fact, if your brain wasn't cracked, none of the brilliance could spill out. Do you realize that?" 
Georgia knew what she wanted and adamant in pursuing Moses only to have him pushed her away due to his own fears. They lived in a small town and when things started to happen, it pushed them apart even more until something brought them together again.
I love Moses. I love how he was burdened by his ability and how he learned to hone it to his advantage.  And I also love how the same ability that completed his life in full circle.

I adore Tag the moment he was first introduced to the readers. I love seeing his friendship with Moses and how they complemented each other with their strengths and personalities.
I also love Georgia's candor in the first part of the book and her inner strength in later part. And one of the things that made this book special is Georgia's Five Greats. I love reading other readers listing their own list in their reviews or on the author's fanpage.
Overall, the story really spoke to me and mostly it was due to his ability. Funny thing is, I was a little apprehensive when I accidently discovered (at about 5%) the genres listed on Goodreads which listed the specific sub-genre (which I don't go for). I wished I didn't know because I rather dive in a book blindly to discover the surprises myself, but it wasn't a big deal since it was something that was reveal very early on.
And personally, I think it shouldn't be cornered into the genre because even though it played a big part in the story, it wasn't about that – it was so much more than that. That said element was what made Moses so special to me. It what made him scared and brave at the same time.


I have to say, from the readers' reactions I was expecting this book to make me do some ugly crying. Even though this book touched me, that didn't happen but some soft sobbing did happen haha! Eli and Moses relationship was really endearing. My favorite and the hardest part of the book was when Eli showed Moses what happened during the "Myrtle incident". That was what ripped me the most, which mostly due to my anger to the people who should have known better.
I usually go for dark erotic romance. The Law of Moses is mostly about love rather than stereotypical romance with no erotic element, yet this book with its beautiful writing  managed to rightfully earn its place in my favorite list.
P.S.: I don't think I can look at batman pajama the same way again.
This review is also available on Goodreads.