Title: Personal Geography
Author: Tamsen Parker
Genre: Erotic Romance
Type: Book 1 of The Compass duology
POV: First Person – Female
Release Date: Dec 1, 2014
Pre-Order Link: Amazon
Powerhouse consultant India Burke is notorious for her razor-sharp mind, her incisive tongue, and for always being in control. But during her "lost weekends"—out-of-town, one-and-done, anonymous rendezvous solely for the purpose of kinky sex—she craves a submissive role.
Cris Ardmore, India's latest tryst, is a Dominant who calls an isolated Hawaiian paradise home. India's expecting forty-eight hours of contractually defined sex, but instead of serving as just another BDSM Band-Aid, Cris wants to know the real India Burke. Despite her aversion to anything approaching intimacy, India is hooked by their incredible sexual chemistry.
With tension ratcheting up in her professional life, India needs the release Cris offers more than ever, but her repeated visits come with their own risks. No matter how strong their attraction, India is determined to maintain her boundaries in order to keep her life whole after her first love blew it apart. She must choose between taking a chance and handing Cris the road map to her heart or locking down her borders before he does any more damage.
ARC provided by author via NetGalley in exchange for an honest review
Personal Geography is an erotic romance debut novel by Tamsen Parker. It spun the story of India Burke, a straight talking no nonsense consultant. India was an up and coming star of her company. She's an alpha in the boardroom but crave submission in the bedroom.
The last relationship she had was three years earlier with her Dom and it didn't end well. Since then, she had been reluctant to form a relationship for the fear of getting hurt again. So to satisfy her cravings, she use her weekend breaks for short term contractual encounters.
It worked well for her until her latest encounter with Cris Ardmore. Cris was not like any other Dom and she had a hard time not to break her own rules around him.
I really love the idea of an alpha sub and a beta Dom. It made the Dom/sub culture seemed more "politically correct". And it also made the book easier on general readers who are not familiar or new to the BDSM culture. So if you're not into BDSM reading, Personal Geography would be a good starting point because the scenes were mild and tastefully written.
I like India because she's a strong independent character. She's also amusing and witty. I especially love how she was argumentative and challenged Cris – when she's not in play.
"This…This is, by far, the strangest date I've ever been on."
"Is that what it is? A date?"
"What did you think it was?"
"Well, I don't know about you, but I was under the impression that I had signed up for a weekend full of very hot, very kinky sex."
But of course she had her weaknesses and still haunted by her less than stellar past and Cris's charm made it harder for her to keep it in the past.
I have to say, if I ever to be a sub, Cris would be my first choice of Dom. He's gentle, respectful and didn't get off on humiliating his sub. And he can cook!
He's very easy to love which at some point made me want to slap India for being so closed off. Him being needy was also endearing. Though gentle, don't write him off as an incompetent Dom. He could deliver when he needed to.
Story wise, personally I prefer it to have faster pace. I like that India and Cris's relationship progressed through time in a realistic manner. However, I felt it lacked excitement in between. I find myself confused and apathetic whenever the scenes went to her work matters. Partially, it could be because I'm not familiar/interested in her field of work. It also because I feel it didn't really add much to the story.
I understand her work scenes were to portray her alpha tendency outside her playtime. But I wish there were more to it to make it more interesting. The one thing that her work time was significant to her play time was the Slade incident.  I also really like to know more about Cris because we really didn't know much about him other than what he did for a living and what his hobby was. I'm wishing for the next book to be in Cris POV.
Overall it's a good book to lose yourself in easy pace story and the lighter side of BDSM world. The cliffhanger ending definitely made me want to read the next book because I need to know what's going to happen next.
Final Verdict:
 This review is also available on Goodreads.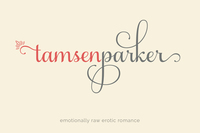 Website   |   Goodreads   |   Facebook  |   Twitter
Tamsen Parker is a stay-at-home mom by day, erotic romance writer by naptime. She lives with her family outside of Boston, where she tweets too much, sleeps too little and is always in the middle of a book. Aside from good food, sweet rieslings and gin cocktails, she has a fondness for monograms and subway maps. She should really start drinking coffee.