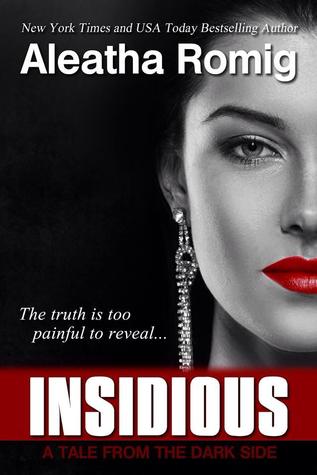 Title: Insidious
Author: Aleatha Romig
Genre: Erotic thriller
Type: Book 1 of Tales From The Dark Side standalone series
POV: First person – female
Rating: 4/5
Insidious told the story of 18 years old Victoria Conway who were married to Stewart Harrington, a much older, powerful and rich man out of "familial obligation". Throughout her marriage, she played the role of a perfect wife without anyone but their "friends" knowing what happened behind closed door. Far forward 10 years, she decided enough is enough and did things to rectify her situation.
The moment she thought she could breathe freely, she learned that change may not necessarily be a good thing after all.
Overall I do like the story. I like how even though Victoria was strong, she still dependant of the other characters. Travis, I love him because he just said it as it is.
As for the storyline, I thought the middle of the book was a bit slow. I didn't expect SPOILER>Stewart to die that early <SPOILER. I thought he was going to have a bigger role in the book, but it wasn't a bad thing because the plot picked up after that. However, there seemed to be too many things being revealed without being properly explained. Like things with Brody and his motives. Even with Stewart's or Travis's reasons and motivations. It felt like too many questions left unanswered.
After what Victoria did at the chapter ending, I thought she has gone soft.
But then the final paragraph in the epilogue made me want to pat her in the back. I know, I'm evil like that.
Note: When I found out who Wesley was, it made me want to