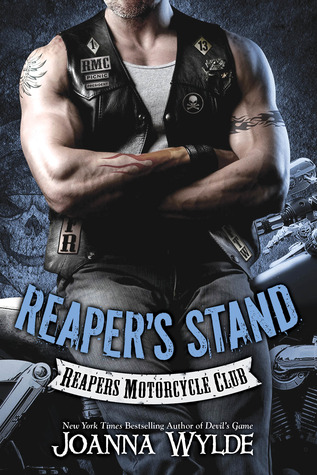 Title: Reaper's Stand
Author: Joanna Wylde
Genre: Erotic Romance
Type: Book 4 of Reaper's MC series
POV: First person – dual
Rating: 5
After I finished the first book in the series, I didn't have much excitement over the next ones because I didn't like Horse and Marie. But then I started the second book, The Reapers started to grow on me. Then the third book made me fall in love with them. So now here I am with the fourth book, loving it and it still made me want more.
I love how the book has been improving as it goes and I also love that each book had different tone to it.

Reaper's Stand told the story of Picnic/Reese, the Reaper's 42 years old president and London, a 38 years old "single mother" who owned cleaning business contracted by the Reapers.
They may be older than the previous couples in the series, but no that didn't made them boring. In fact, I think it's close to be my favorite one in the series.
It started with a bang. Literally. The Prologue captured by attention and just to know more.

I started to like Reese in Devil's Game. I like his protectiveness towards his family. And I like London too because she was very much in the same boat as him. They both cared for their family and would do anything to keep them safe.
As much as I love them as a couple, the first 50% of the book, I felt a little lonely because the story only focused on them. I've missed the rest of the Reaper boys and thankfully they came back (with a vengeance, one way or another) into the storyline.
I love how London grew as a person throughout the book. She started as a scared, insecure woman. But once she ignited the fire in herself she burned hot and bright. And she's also quite amusing.
I love the dynamics between Reese and London. Even though they cared about each other, when the going got tough, they know which choice was best to make. I love the fact that they tried to SPOILER> kill each other<SPOILER
Note: I was surprised to see a different side of Painter at first. But towards the end he was back to his sweet lovable self. I've been wanting to know more about him since he and Em's "story" started. And from the direction of this book, I'm really hoping his story is next. And I'm also happy to see that Puck's going to have his own book.